3 Options For Eagles At Pick
No. 21, If Top WRs Are Gone
The NFL draft is a gamble,
and who is best fit at WR?
By Eric G. Stark
Death, taxes and Joe Burrow being drafted No.1
That's about the three most reliable things we can count on, though the tax deadline did move to July this year.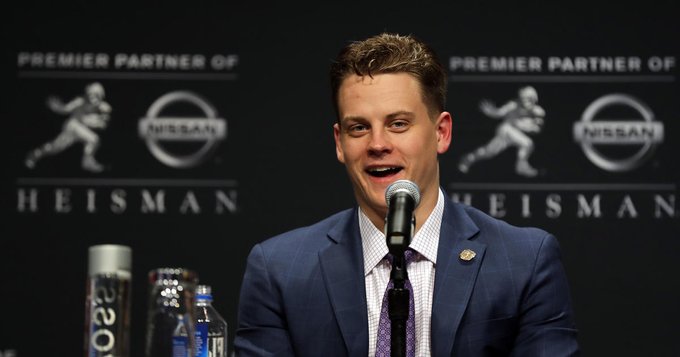 Burrow going No.1 in the 2020 NFL draft seems like a sure thing, though it is not a lock that the Cincinnati Bengals will be the team drafting him there (there are rumors of teams trading up to select the LSU Heisman Trophy winning quarterback).
The Washington Redskins seem happy to take Chase Young with the second pick. Dan Plack in his Plack's Pick's Mock Draft said Young, the Ohio State defensive end, is the best talent in this draft [See related draft story] and would be the first overall pick, if it weren't for a good quarterback like Burrow.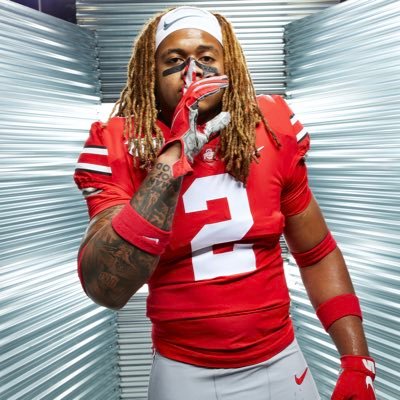 After the first two picks, Plack, who has compiled mock drafts for more than 40 years, believes teams could be jockeying around, attempting to trade up to take a quarterback like Alabama's Tua Tagovailoa and Oregon's Justin Herbert.
Former Lancaster Newspaper sports columnist Paula Wolf on her Wheelchair Quarterback sports blog said she didn't see a lot of surprises in Plack's picks, Burrow, Young and Tagovailoa will all go in the top five picks in the draft, which begins Thursday, April 23 and will air on the NFL Network, ESPN and ABC.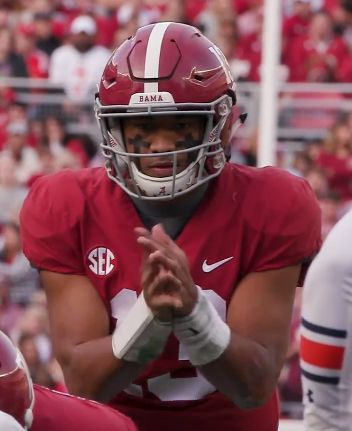 I believe both Tagovailoa and Herbert are talented and could have bright futures, if they get selected by the correct team. I also think Tagovailoa, who I just rewatched on ESPNU play against Mississippi, throws a very accurate pass, but I do have concerns with him staying healthy.
Plack has him going seventh to the Miami Dolphins. That is not a terrible spot for Tagovailoa, who can sit on the bench, healing from his latest leg surgery, and learn how to play the position behind savvy NFL veteran Ryan Fitzpatrick.
I can envision the Dolphins or Los Angeles Chargers trading up to get the man they want.
In Plack's Picks, Jeff Okudah is selected No. 3 by the Detroit Lions as the top cornerback, but Plack says corner back CJ Henderson, from Florida, is every bit as talented and could be a top 5 pick.
Plack has Henderson going No. 10 to Dallas, simply because teams want to draft QBs and linemaen and Henderson could fall. But what if a team offers the Lions a juicy trade offer to move back for more picks and Detroit can still draft a CB in Henderson? It could happen
Options Deep And Wide
The so called "experts" say this is a deep class for wide receivers, one of the deepest ever. Brilliant NFL writer Bob McGinn writes his annual draft report for The Athletic these days. In his wide receiver/tight end breakdown, where he talks with NFL scouts for their analysis and views each position offers some interesting insights.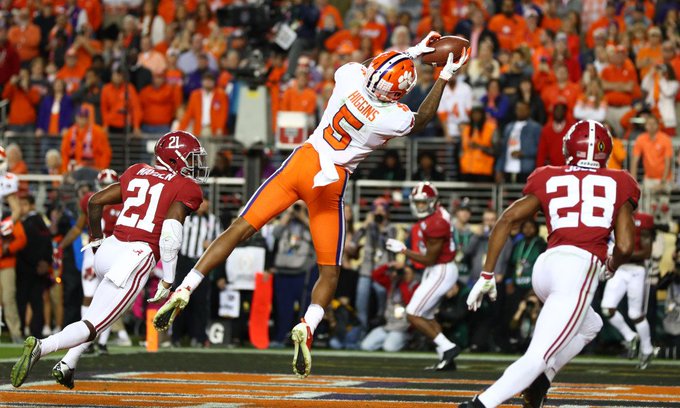 Several of these scouts said it was a deep group, but one with no elite players. No Calvin Johnson or Julio Jones as a clear No.1 stud receiver.
I took note how low the Wonderlic test scores were for some of the top wideouts in this year's draft.
The average score of McGinn's top 13 pass catchers in this draft is 17.1.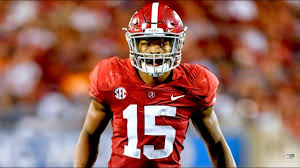 Alabama's Jerry Jeudy, who Plack has as his first receiver off the board at No. 13 to the New York Jets, scored only a mere nine of the 12-minute, 50-question Wonderlic test, McGinn wrote.
Plack has Oklahoma's CeeDee Lamb being drafted right behind Jeudy at No. 14 by the Las Vegas Raiders. Lamb scored only 12 on the Wonderlic.
So the top two wide receivers didn't score well on the NFL's intelligence test. I'd write this off as no big deal, sort of like not everyone does well on the SAT, but McGinn points out that intelligence matters on the football field and he showed that several Pro Bowl receivers tested high on the test. McGinn wrote that the average score of the eight wide receivers voted to the Pro Bowl in 2019 was 21.6.
So maybe these scores do matter, or at the very least, should be considered.
Lamb and Jeudy are talented and athletic receivers. But here is my concern with both of them and 'Bama's Henry Ruggs, who Plack has going No. 15 to the Denver Broncos. All three didn't show up in some big games this past college season
Lamb missed the Baylor game with an injury, and as one scout in McGinn's story pointed out, they don't play much defense in the Big 12. Lamb played against some bad defenses.
Jeudy and Ruggs played well against bad defenses as well. But against rivals or better teams in the SEC their teammates – DeVonta Smith and Jaylen Waddle – shined brightest.
Smith set a Crimson Tide record with five touchdowns and 274 receiving yards against Ole Miss on Sept. 28. Waddle hauled-in three touchdowns on four receptions for 98 yards in a loss to then No. 15 Auburn on Nov. 30.
Even Tee Higgins, potentially the fifth best wideout, played against bad competition for Clemson in the ACC.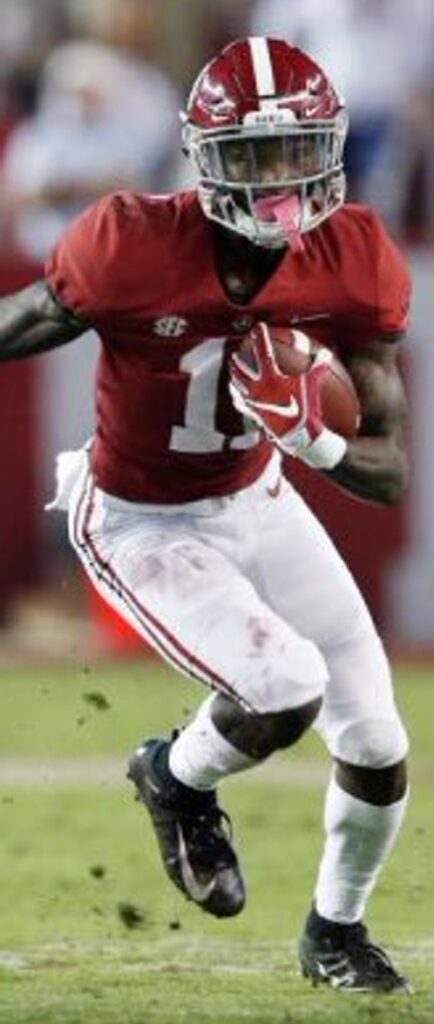 The other big take away from reading McGinn's story on what NFL scouts thought about this year's receivers is that beauty is in the eye of the beholder. The views on the top wideouts varied greatly among the scouts. At times I wondered how these views could be so different.
One writer and pro football evaluator view that I trust is Ray Didinger, the Pro Football Hall Of Fame writer.
He is on record on WIP 94.1-FM radio as being a big Ruggs fan, saying Ruggs is THAT good of a player. But Didinger does not think there is any chance Ruggs falls to No. 21 and the Philadelphia Eagles pick.
Here is the audio from him talking about Ruggs.
He compared him to Kansas City's Tyreek Hill, but with better hands and Steve Smith toughness. Ruggs ran a 4.24, so he is fast.
He also scored a 20 on the Wonderlic. Didinger believes the Philadelphia Eagles should trade up and get Ruggs, if the wideout is still there at No. 15.
Here is video that shows Ruggs break away speed and big play ability.
On Didinger's mock draft on WIP's website, he has the Eagles taking Justin Jefferson at No. 21. You can't argue with the results Jefferson produced with 111 receptions and 18 touchdowns this past season for LSU, the eventual National Champion. And Jefferson performed well in the National Championship game against Clemson.
The concern with Jefferson is that he is more of a slot receiver and the Eagles need a player who can play on the outside.
But in McGinn's story, a scout said Ruggs is not a No. 1 receiver. Another scout compared him by asking if he is Brandin Cooks or Ted Ginn Jr.? I don't think I'd trade up for either of those players. That's not a No.1 player worth moving up in the draft to take.
Didinger says Ruggs is a better fit than Jefferson for the Eagles' need. I tend to favor Didinger's evaluation – he's been doing it since the early 1970s – over many of these scouts.
But let's say Ruggs is off the board or cost too much to move up to take. Do the Birds take Jefferson, or take the "Best Player On The Board" and take a linebacker or safety?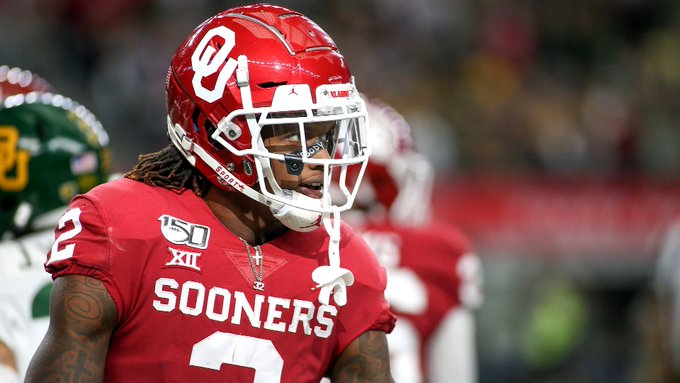 Oklahoma's Kenneth Murray or LSU's Patrick Queen are both linebackers that may be better values than taking the fourth-best receiver at No. 21.
Why not zag when everyone else is zigging?
Yes, I know the last linebacker the Eagles drafted was Jerry Robinson in 1979, but maybe this is the time to do it.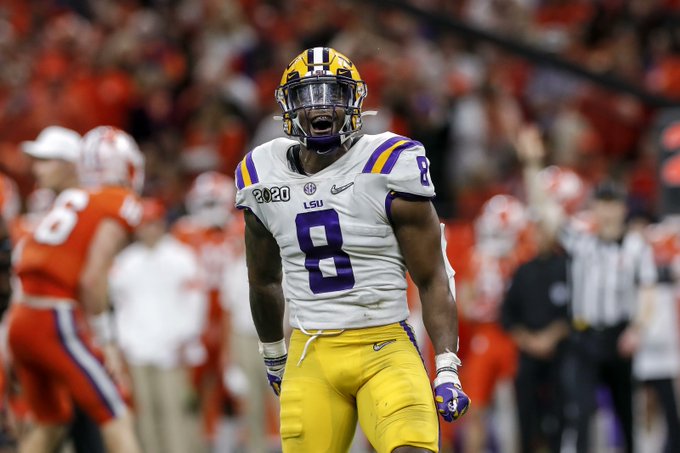 At No. 21, if the top 3 wideouts are gone, I'd trade back and get more draft picks. Take Murray or Queen a little later in the 20s. Plack has Murray going No 24 to New Orleans and Queen going No. 28 to Baltimore.
Wolf agrees with me in her column, saying "for several weeks I was fine – even happy – if LSU wide receiver Justin Jefferson was their choice, as Plack and others project. Now I'm not as certain, as I'm beginning to think they can get a WR with as much upside or more in round two."
"for several weeks I was fine – even happy – if LSU wide receiver Justin Jefferson was their choice, as Plack and others project. Now I'm not as certain, as I'm beginning to think they can get a WR with as much upside or more in round two."

– Paula Wolf
If the top receivers are gone by No. 21, I'd take Brandon Aiyuk from Arizona State or Bryan Edwards from South Carolina or Jalen Reagor from TCU with a late first round or second round pick. One scout in McGinn's story said Reagor is faster and quicker than Lamb and Jefferson. Another scout said Edwards is comparable to former Gamecock Sterling Sharpe. If he plays as well as Sharpe did with the Green Bay Packers, I'd take that.
Aiyuk only had one productive year in college, but boy, he looks good. He is only 5-foot-11, but he has an 80-inch wingspan. He looks great after the catch.
Here is a video of his speed and a big play ability on a punt return and run after the catch.
One more thought, I was a big KJ Hamler fan during his days at Penn State. Hamler opted to leave college early. I wondered at the time if this was a smart move considering this was such a deep receiving class.

Scouts are pointing out that Hamler led all the top receivers in dropped balls. Hamler will still likely be a second or third round pick, but what if he'd stayed in school one more year and eliminated the drops?
Would he have improved his draft stock?