Eagles, Packers and Steelers Draft Well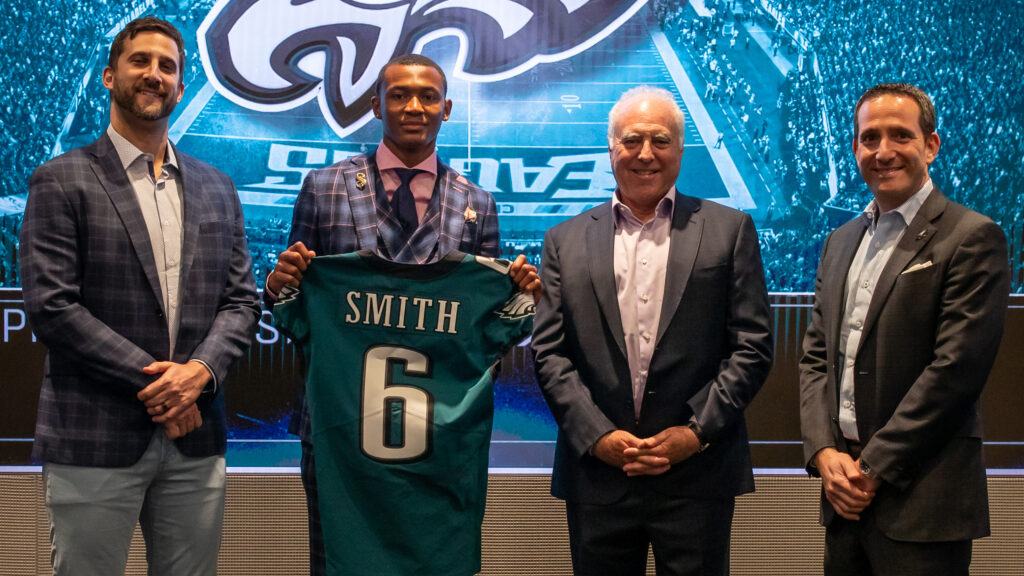 A review of the 2021 NFL draft
By Eric G. Stark
If you had any doubts, any thoughts that the Philadelphia Eagles didn't get a valuable asset in the first round of the 2021 NFL draft you need to look no further than the comments from Ray Didinger.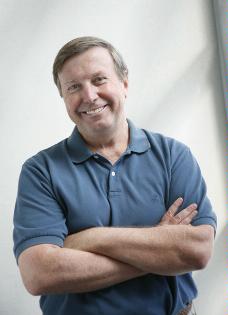 Didinger, the Hall of Fame football writer who works for NBC sports Philadelphia and 94 WIP radio, has been in love with the former Alabama wide receiver Devonta Smith since the college football season began in the fall.
Smith, listed at 6-foot, 165 pounds, plays bigger than his size. As a sophomore in 2018, he had 42 receptions for 693 yards and six touchdowns. As a junior year he had 68 receptions for 1,256 yards and 14 touchdowns. As a freshman, he caught the winning touchdown in the National Championship game against Georgia.

Here is what he had to say on Angelo Cataldi's morning show on 94 WIP.
"There are guys that are big and play small and their are guys that are small and play huge, and he's one of those guys," Didinger said. "If he'd set the numbers, set the records and done what he's done at the size playing at a Division II school you could sit back and say, 'well let's see what happens when he plays against the big boys.' Well, he's been playing against the big boys.

"At the SEC, the guys he's playing against the last four years are all guys that are playing in the NFL right now or will be. He's played at that level of competition, he's played played against those defenders and he's taken those hits. And he's never missed a game. All he ever did was line up, play and make big plays to win big games for Alabama."

Well, I'm sold.
The Heisman Trophy winning wide receiver has what Didinger called "as complete a skill set as you can find for receiver." His ability, his character and his work ethic, his football IQ … all that stuff is significate, Didinger said.
And he just catches the ball. Smith has the hands of a possession receiver. He is smart and is always in the right place. The newest Eagles receiver holds insane records of most single-season receiving yards (1,856) and receiving TDs (23) in SEC history.

"He runs great routes," Didinger noted. "He is probably not as stop watch fast as (Jaylen) Waddle is, but I think he plays faster. The way he runs routes, he is so precise. He is so good in and out of his breaks and he is so good at just being able to accelerate and pull away from press coverage that he is always open."
The Eagles coaches need to play film from Alabama's season – especially the National Championship game against Ohio State – and see how the Crimson Tide utilized Smith, how they moved him around the film and used him in a variety of formations. Don't anchor him in one spot. Save the gadgets plays for WR Jalen Reagor and find the best match-ups for Smith on the field.

Didinger said the Eagles desperately needed to add some explosive, dynamic quality to its offense. They desperately needed play makers in its offense. Last year they were 31st in the average yards per pass play.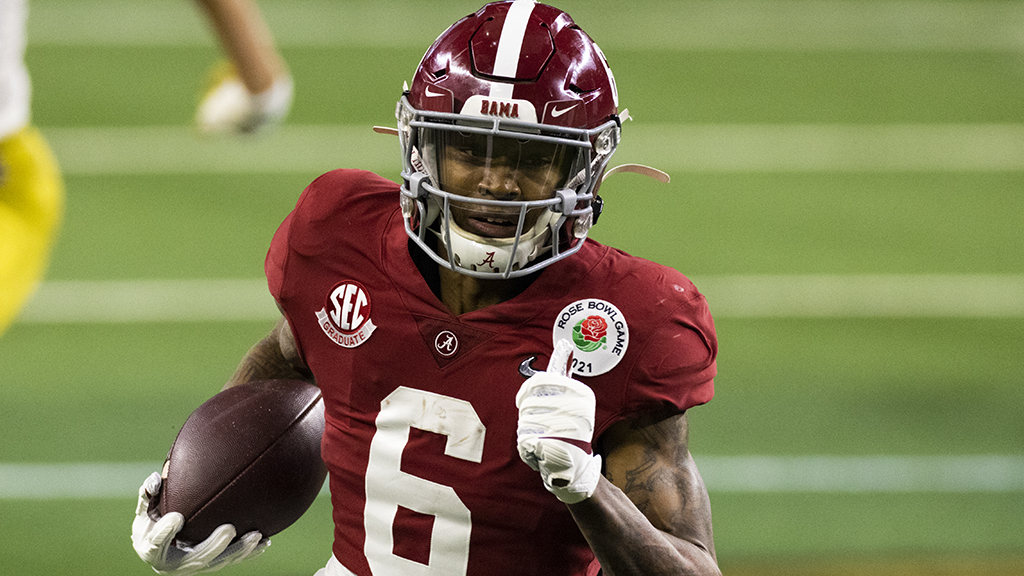 Send Gifts To Denver
The ironic thing is Smith and the Eagles almost didn't happen. In fact, as the picks were coming off the board, I started to smile, I as saw a scenario where none of the players the Eagles wanted were there at No. 12 and that the trade from No. 6 to No.12 that Philly general manager Howie Roseman made a couple of months ago would come back to haunt the team.


I smiled because it looked like another "Howie Wowie" moment, where he would outsmart himself again. This brilliant move to trade back to get another No.1 (likely a low first round pick from Miami) would backfire when all the top players were gone. Then the Birds would trade back further [See related story] and Howie would spin it as all part of his master plan for more draft capital.

But Didinger, on the After The Buzzer podcast with Gordie Jones and Mike Gross, said the Eagles got a little lucky and should send the Denver Broncos a fruit basket as a thank you gift for drafting Alabama corner back Patrick Surtain II and setting off a unique chain of events.

Denver trading for Teddy Bridgewater allowed Eagles to get Smith, Didinger said, noting that if Denver had taken Ohio State quarterback Justin Fields at No.9. Then Dallas takes Surtain II at No. 10 at and Giants take Devonta Smith, whom they were high on, at No. 11 and Eagles have nothing and no where to go. It is Marcus Smith draft pick all over again.
Denver saves them by taking Surtain II. No mock had Surtain II going to Broncos.
So the Eagles, with only one player still on the their board that they REALLY wanted at No. 12, trade with Dallas to jump ahead ahead of the Giants, essentially screwing the Giants again. Remember, Philly basically gave the Washington football team (formerly the Redskins) the game by inserting Nate Sudfield, allowing Washington to win. This assured the Eagles a higher draft selection (which they later traded away) and opened the door for Washington to make the playoffs and pushed the Giants out.

So on draft night – about four months after screwing them out of the playoffs – the Eagles jumped ahead of the Giants and took the player New York was after in Smith. It reminded me of a scene from Seinfeld when George Costanza kept accidentally causing problems for his co-worker.
So faced with losing the player they wanted, New York traded out of the pick with the Chicago Bears (Maybe Matt Nagy and the Bears brass should send a fruit basket to Denver as well), which allowed the Bears to draft Fields. This pick could save Nagy's job (he finally has a quarterback that can run his offense), or at least buy him some more time in the Windy City.
I am curious to see him start running some of the innovative plays he ran in Kansas City as offensive coordinator with Fields and players like former Penn State wide receiver Allen Robinson. Fields is certainly more Patrick Mahomes II like than former Bears starting QB Mitch Trubisky.
Other Picks
I liked the Alabama offensive lineman, Landon Dickerson, the Eagles draft in the second round at pick No. 37, but like Didinger, I questioned why they didn't draft Dickerson's teammate at 'Bama in defensive tackle Christian Barmore, who Dan Plack in Plack's Picks had going in the teens in his mock draft.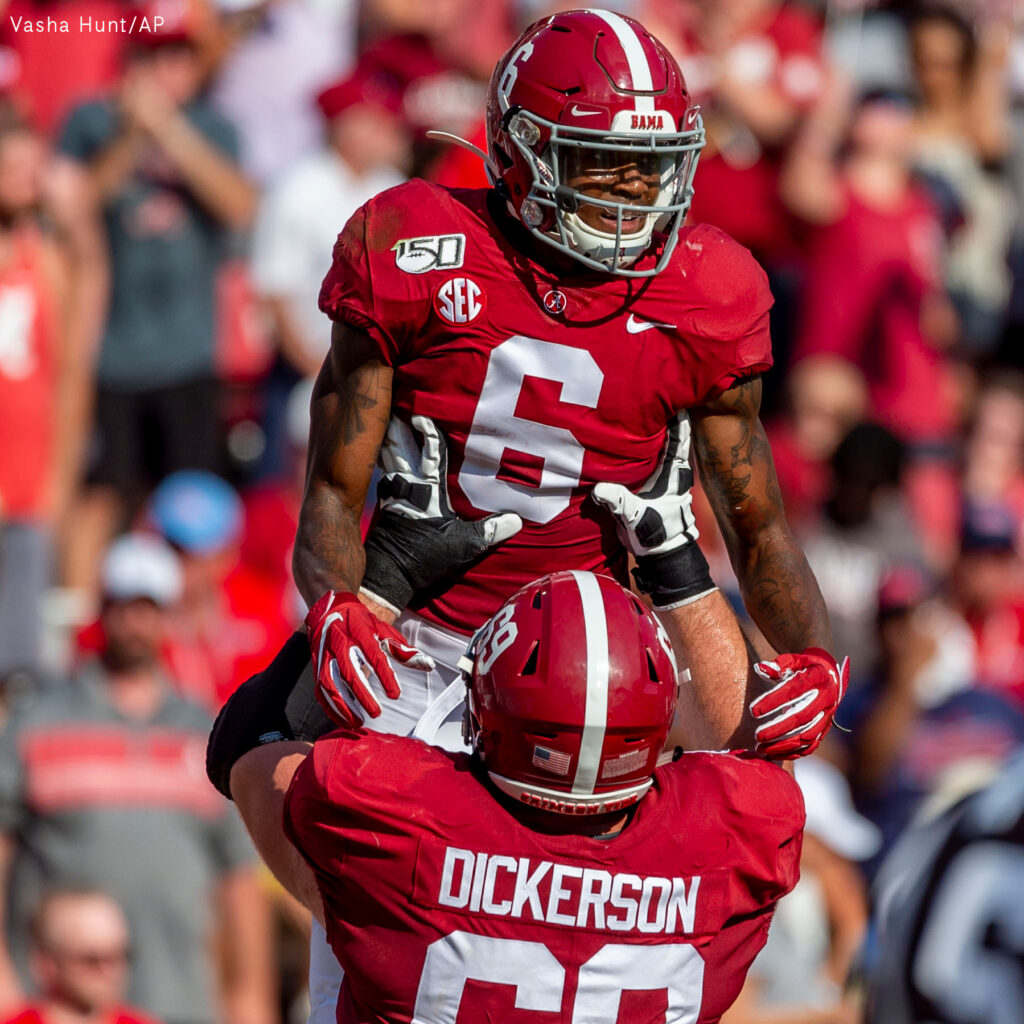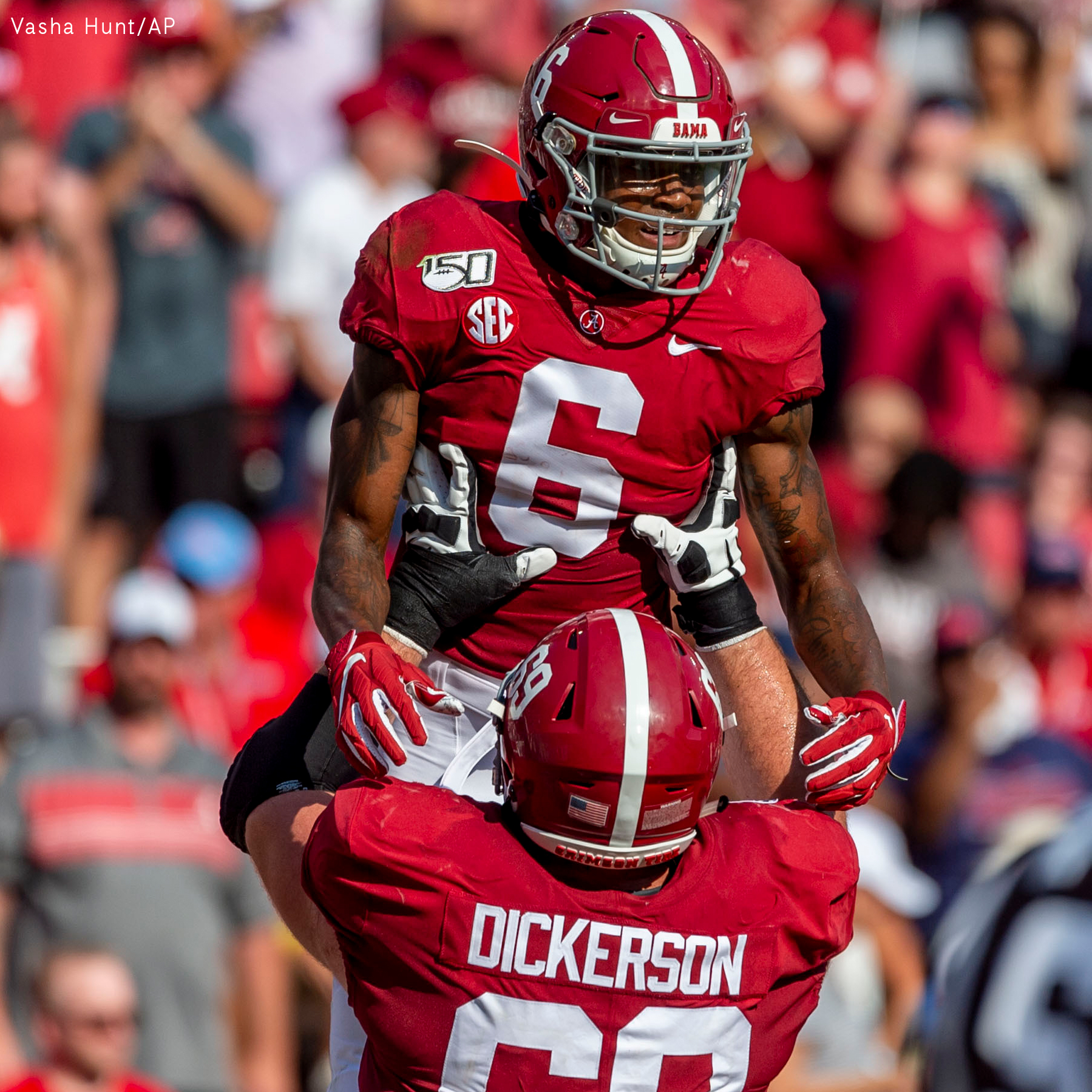 Didinger on the After The Buzzer podcast said it appeared like the Eagles were sticking to their board and were likely caught off guard that Barmore was still available. Didinger said he had Barmore as a first round pick was surprised he fell to the early second round.

When Philly passed on Barmore, New England scoped him up with the next pick at No.38. Understand, I do like the Eagles getting Dickerson. He looks like a great lineman, and from all I've heard and read, he's a great teammate and well liked. But I didn't realize how injury prone he is. He was a four-year starter at both Florida State and Alabama, but he never played a complete season without missing multiple games with injuries, ankles and knees mostly.
In fact, he injured his knee in the SEC Championship game this year (most of teammates came over to cart to wish him well) and he is still recovering. If healthy, Dickerson was likely a first round pick, however, he is hurt, and I wonder if the Eagles even if they had to trade up, could have got him in the third round. How nice would an Alabama trifecta of Smith, Barmore and Dickerson look right now?
In the year of a pandemic, going with sure players from a winning program is never a bad idea. One more thought on Dickerson: I wish him well and hope he plays a year, or two, at guard and moves to center when Jason Kelce retires, but the Eagles drafting injured players that have a lot of potential never works out – See Sidney Jones.
Overall, I like the yield the Eagles got in the draft, Round 4, No. 123 overall — Texas Tech CB Zech McPhearson; Round 5, No. 150 overall — Memphis RB Kenneth Gainwell; Round 6, No. 189 overall — USC DT Marlon Tuipulotu; Round 6, No. 191 overall — Coastal Carolina DE Tarron Jackson;
Round 6, No. 224 overall — LSU LB JaCoby Stevens; Round 7, No. 234 overall — Tulane DE Patrick Johnson.
I particularly like the Gainwell pick, though the Memphis running back sat out last season. I think he looks like a nice weapon for the offense. I like that NFL Network's Daniel Jeremiah had several of the picks picks in his top 100 players. These addressed need, drafted a lot of players from big-time programs and, for the most part, didn't reach or make reaction picks.
I write for the most part because third rounder, Milton Williams, a defensive end from Louisiana Tech, seems like one of those Marcus Smith picks where they outsmarted themselves and were left with nothing to choose from when their pick came around.
The Eagles had the 70th pick, but Carolina offered them their pick and a sixth round to move up, giving Philly the No. 73 pick. Seemed like a low-risk trade. Move back three places and get an extra sixth round pick, right?
Wrong.
Seems like the two players the Eagles liked at pick No. 70 were both gone by pick No. 73. How do we know this? There is video of very grumpy looking executives in the Eagles' War Room and Roseman trying to fist pump with them. The last first pump with senior adviser Tom Donahue, the former great Pittsburgh Steeler general manager, seals the conclusion that something went amiss with the Eagles plan to trade back. Donahue does not hide his displeasure.
Side note: Looking back, who cares about an extra sixth round pick. I get so tired of trading back. Go get the more talented player. What good do extra picks or players do you if they are not as good as the player you could have selected at the original draft spot?

From what I've read, it looks like both Picks 71 and 72 were some of the Eagles' guys. They could have been mad about the 71st pick. Cornerback Aaron Robinson went to the New York Giants, their rival. The Eagles had a pressing need at corner, and they ended up taking former Penn State corner and Texas Tech product Zech McPhearson in the fourth round.

McPhearson is built similarly and brings a lot of the inside-outside versatility that Robinson has, but maybe they had options there. But Didinger said he ranked Robionson has his sixth-best corner in the draft.
Or the Eagles wanted who the Detroit Lions selected with the No. 72 pick, right in front of the Eagles in Alim McNeill, a defensive tackle. Though both defensive tackles, McNeill and Williams are not built the same. McNeill is a 317-pound nose tackle with pass rushing upside while Williams is a 284-ponder with three-technique.
Upon further review, Williams looks at like an athletic-tweener with upside. Again, a Marcus Smith-type player. McNeill reminds me more of Fletcher Cox's replacement. In hindsight, either picks at 71 and 72 seem better than Williams and McPhearson.
Packers And Rodgers
I will write more in a future post about Green Bay, but want to say overall, I believe they drafted very well and addressed needs or took the best player/value.
Considering the distraction of the whole Aaron Rodgers fiasco, I believe the Packers did well with their draft haul. For an interesting take on Rodgers leaving Green Bay, read Gordie Jones blog post. which talks about Rodgers' possible divorce from the Packers.
I like the Eric Stokes pick. The 6-0, 194-pound Georgia corner back can and should, emphasis should, replace Kevin King, who made several bad plays in the NFC Championship game last season. Stokes was a First-Team All-American last season and an All-SEC selection.
Not everyone like the pick. The media, cough, cough, ESPN, just want Green Bay to take a wide receiver. The Packers issues last year weren't the wide receiver position. But here is what SportsNation thinks of the Stokes pick.
Oh, and I am so tired of hearing about drafting a wide receiver in the fist round for the Rodgers. The Packers have never done that. So why start now? Plus, I think they have good wideouts already. Sure, I would have like to see them roll the dice on a high-risk, high reward guy like Antonio Brown in free agency, but he opted to stay with Tom Brady in Tampa Bay.
The Packers have bigger needs than taking a wide receiver in the first round, just to make quarterback under contract happy. Rodgers is not going to be happy until he gets a new contract and Jordan Love, his heir apparent is gone. Doesn't Rodgers remember who things went down with Brett Favre? How Rodgers served as the understudy for three years and then the team, needing to sign Rodgers to an extension after Favre had a near MVP season, forced him out? Farve retired, then unretired and eventually was traded to the New York Jets and later played two years to the Vikings.
There is a reason why this franchise has only had – barring injuries – two quarterbacks in nearly 30 years. They make the hard decisions and draft a young, talented QB to replace the older player. Favre had three more years after leaving GB.
Yes, Rodgers had a MVP season last year. He also has one more year on his contract before it has a high salary cap number. So he wants assurances that he's in Green Bay for the long haul. I didn't like the deal he signed originally, as I thought it hurt, from a salary standpoint, the team from addressing other needs.
Look how many times Brady restructures his contract to make sure it is is cap-friendly for his organization to sign other players so they stay competitive. Brady takes a big signing bonus and then less in salary. Smart move that helps the team.
The Packers have to find out if Love can play during the preseason. Rodgers should be the man for at least one more year. He needs to stop the passive aggressive act. He needs to shut up and play. Or go host Jeopardy.
Back to the draft, I like the second round pick, Josh Myers a 6-foot-5, 310-pound guard/center. Again, he comes from a great school (Ohio State) and conference (Big 10) and he fills a need with Packers' center Corey Linsley signing a 5-year free agent deal with the Los Angles Chargers. Myers was a First-Team All-American and All-Big Ten selection last season.
In the third round, the Pack took a wide receiver Amari Rodgers who that reminds me and others of Randall Cobb (let's hope he's a productive and has as many highlights). Like Cobb, he is on the small side at 5-foot-9, 212 pounds. And like Cobb, he is fast and elusive in the open field. I like that he also comes from proven a winner in Clemson, a team with a great offensive scheme (Trevor Lawrence went No.1 in the draft) and a team that plays in big games (four straight college playoff berths). This Rodgers is used to the big stage. He has 181 career receptions for 2,144 yards and 15 receiving touchdowns in 55 games (37 starts).

Green Bay stayed with big-name programs for its next two picks, taking guard/tackle Royce Newman from Mississippi and defensive tackle T.J. Slaton from Florida. Strengthening the line of scrimmage, the trenches, so to speak, is never a bad idea. Newman earned high pass blocking grades for a pass-happy team. He Slaton, 6-4, 330 pounds, finished his career with 98 tackles and 3.5 sacks in 45 games with the Gators.
NFL Network's Daniel Jeremiah raved about the Pack's fifth round pick in cornerback Shemar Jean-Charles from Appalachian State. He is 5-10, 184 pounds and a First-Team All-American. A two-year starter, he was the Sun Belt Player of the Year as a senior. He led the nation as a senior with 16 pass break ups and 17 passes defended (one interception) in 12 games as a senior. He made 25 starts and played in 50 games during his career. He's a sleeper who could have a big impact.
Steelers Get RB Help
Some people wanted Pittsburgh draft an offensive lineman at the No. 24 pick in the first round. But there were plenty of good lineman to take later in the draft and the Steelers style is always to let the best available player fall to them and not reach for a need.

Based on what I saw last year or the last two years even, taking a running back was a need, and Pittsburgh got a great one in Najee Harris, RB, Alabama who can run with power and catch passes. He reminds me of another former Steeler great with the last name Harris, ie. Franco, the Hall of Fame runner from Penn State.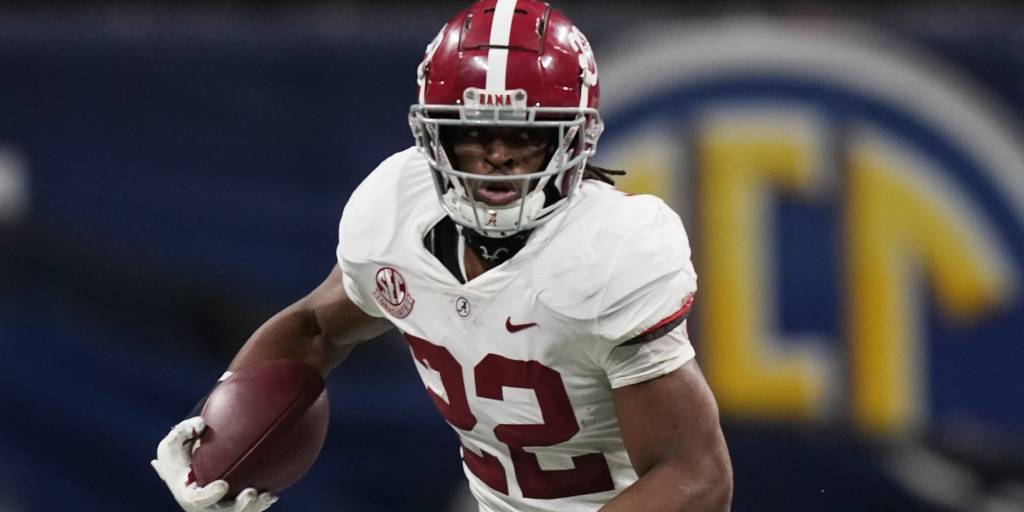 In a year with less scouting and evaluating in person, Pittsburgh was wise to draft nine players all from big schools in proven conferences. They took Penn State tight end Pat Freiermuth in the second round. With Vance McDonald retiring, the Steelers needed a tight end who could stretch the field.

Harris and Freiermuth will help the offense and both seem like Steeler picks, because of their production and toughness.
Then Pittsburgh went offensive lineman with next two picks, taking Kendrick Green a three-year starter at guard from Illinois, and Dan Moore an offensive tackle at Texas A&M. They stayed at Texas A&M to select Buddy Johnson, a linebacker. Then they took defensive end Isaiahh Loudermilk from Wisconsin. They must really like him, as they traded a pick with Miami to move up to get him.
They took two defensive players and a punter with their last three picks. Tre Norwood, from Oklahoma is a ball hawk at safety with five interceptions, the co-leader in that department in the Big 12.