3 Observations From Phillies' Press Conference On Hiring New Manager
By Eric G. Stark
Let's hope the enthusiasm lasts.
Joe Girardi was the overwhelming "People's Choice" for the new manager of the Philadelphia Phillies, and based on his first press conference, the Phillies were his choice also.
Here are three observations from Monday's presser.
1. Girardi was very engaging and showed unbridled enthusiasm.
He said he wanted to get back into coaching and managing and there were things drawing him to the job in Philadelphia.

He grew up a Cubs fan and was a Larry Bowa fan. Bowa, the former Chicago and Philadelphia shortstop, was sitting in the audience Monday.

He mentioned connections to "Sarge" (Gary Matthews), "Vuk" John Vukovich, Pete Mackanin and many other references to past players and managers.

Girardi generally seemed liked he wanted this job, more because of the franchise's desire to win and enthusiastic fans and less because of the big pay check.
2. He gets it.
Girardi understands that this town wants a winner.

"I know the importance of winning here."
– Joe Girardi

Phillies General Manager Matt Klentak, speaking with a little bit of John Middleton's edict to win now, talked about the decision to hire Girardi.
"Now that our team is where it is, we're in at a place, no questions asked, it is time to win now," Klentak said. "Now is the time to win, to get a guy who has done that, who has won in the toughest market and has hoisted the World Series trophy over his head."
The Phillies management wanted a winner, and based on his first interactions with the Philly media, Girardi fits the bill. He talked confidently about his past, where he took the New York Yankees to six post season appearances in 10 years.
Girardi said he learned to embrace the big expectations in New York and said there are passionate fans in New York and passionate fans in Philadelphia.
He talked about embracing analytics as another way to win games. "Any tool to help us, I want it," he said.
He also reminded a reporter that his nickname was "Binder Joe," that he is an analytical guy with an engineering degree.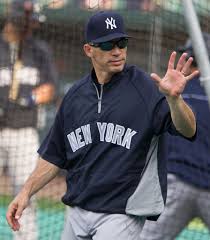 3. I enjoyed his stories.
One of his many stories showed how much he seems to care about the fans and why people are drawn to baseball. He talked about his mother, who grew up on a farm as one of 15 children. They looked forward, he said, of turning on the radio in the tractor and listening to a baseball game.
"You realize how important you are in people's lives," Girardi said. "I'm a manager who really cares. I care about people."
He talked about going to games and watching Bowa and Sarge play. Later he played against the great Phillies team from 1993 and managed against phillies team of 2009.

He talked about managing the Marlins in 2006 and Ryan Howard killing him all season with home runs. So Garardi started intentionally walking him.
Girardi's young son, Dante, asked his father if he could get a Howard autographed baseball. Girardi sent a ball to the Phillies' club house and asked Howard for an autograph for his son.
Howard sent the ball back unsigned with a note that said he'd sign the ball if Girardi stopped walking him.
Girardi sent the ball back with a note saying,"I'll stop walking you if you stop hitting home runs."
Dante eventually got his autograph.
And the Phillies and their fans got their manager.