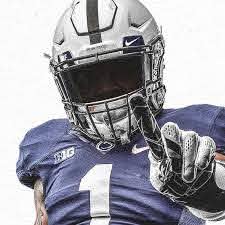 Penn State Shows Fight
Instead of rolling over, Nittany Lions battle back
and make it a close game against Nebraska
By Eric G. Stark
Taping the Penn State game, as I usually do – got to love DVR – I was trying to avoid seeing updates or scores on my cellphone. My niece, Allison, was getting married (who schedules a wedding during a Penn State game?) and during the beautiful service set in a barn my phone was buzzing.

Text messages from Rob, saying this game is not worth watching. Dave calling the Lions garbage. Keith saying Joe (Paterno) would never let his team play this bad (Keith forgets 2001 and the Lions 0-4 start to the season). I'd see a partial score and I'd cringe.
I got home and watched the game. I have no idea why I continued watching, especially after an awful first half, but I am glad I did. I saw a fight in the Nittany Lions that I did not see in the Maryland game.

Yes, Penn State lost to Nebraska, 30-23, but late in the fourth quarter the Lions were in a one-score game and had scoring opportunities to tie the contest. I saw a team that was battling and did not give up or quit on its coach (unlike what I saw in Michigan in its game against Wisconsin).
In the second half – with Will Levis in the game at quarterback – the offense looked pretty good and the defense shut down the Cornhuskers' offense. But the hole the Lions dug was to big to overcome.
Key Stat
Audrey Snyder of The Athletic called this stat baffling on the Dear Old State podcast. Penn State's offense has run 184 plays in the last two games. They've run 63 more plays than their opponents in that span. Yet they've been outscored 65 to 42 in those games.
In first half against Nebraska, the Lions looked bad in every aspect of game. They kept trotting out same QB (Clifford who kept making mistakes). Defense and special teams also struggled. Nothing has changed or improved. The coaching as been underwhelming.
The Cornhuskers' first touchdown came on a long scoring drive, 11 plays, 75 yards right down the field. The Lions' D has given up touchdowns on opening drives the last three games.
The second TD was on a Jet sweep where the quarterback pitched the ball to a freshman wide receiver racing by him and the WR dashed down the field untouched for a 49-yards.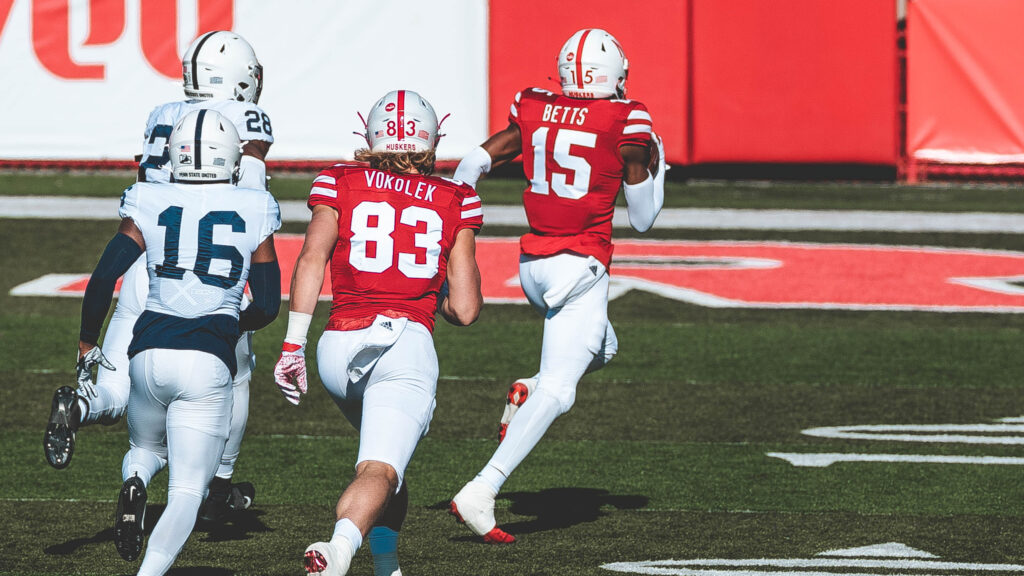 Do I still see issues with all aspects of this team? Absolutely. Am I starting to wonder about Brent Pry and his defensive calls? Yes, he seems to have the same issues with coverage and breakdowns in the secondary. He says they are aware of the issues, but nothing gets fixed. The pass rush is also non-existent.
Synder pointed out that Penn State's defense has given up scores on big plays on TDs 26, 49, 42, 62,38,34 and 49 yards this season.
Some of the issues on the field are trouble spots we've seen before. Game and clock management. Go for it at odd times (see Maryland game and fade pass in end zone to a 5-foot-10 player). Kicking long field goals into the wind (see Nebraska game).
Turnovers on offense and giving up big plays on defense is not a formula for winning. Now, with Iowa (2-2) coming to Happy Valley for a 3:30 p.m. kickoff, the Lions are faced with prospect of doing something Penn State it has never done: Going 0-5 to start the season.
The PSU offense entered the Nebraska game averaging 26 points a game, the fewest amount of points in five years.
When Penn State quarterback Sean Clifford (again trying to do too much, but also having little pass protection) fumbled on a sack that was scooped up for a TD, I said, "Oh, my goodness. Get Clifford out!"
Levis came into the game with 11:29 remaining in the second quarter and immediately appeared to give the offense a spark. Nebraska's defense had to respect is big arm, as well as his ability to run.
The Lions scored 17 points in the second half and had a total of 501 total yards (256 passing, 245 yards). They also held a time of possession advantage of 36:24 to 23:36.
With 3:20 left in the third quarter, the TV camera showed Franklin on the sideline holding an offensive play sheet. Remember, Franklin was an offensive coordinator at Kansas State and held offensive roles at Maryland.
You rarely see him holding an play sheet. It was something maybe you saw on an a rare occasion when Ricky Rahne was offensive coordinator the last two years. It was something you never saw when Joe Moorhead was in the same role, but saw prior to him in John Donovan's last year calling plays.
Is there a trust issue between Franklin and new offensive coordinator Kirk Ciarrocca?
Is he second guessing his hire at offensive cordinator? We'll see.

Crazy thought
Here's a thought: The strength or bright spot for Penn State this season is the play of the wide receivers. Who saw that coming? Jahan Dotson, Parker Washington and KeAndre Lambert-Smith have all played well. They still need to work on getting getting space and open better, but they are making plays.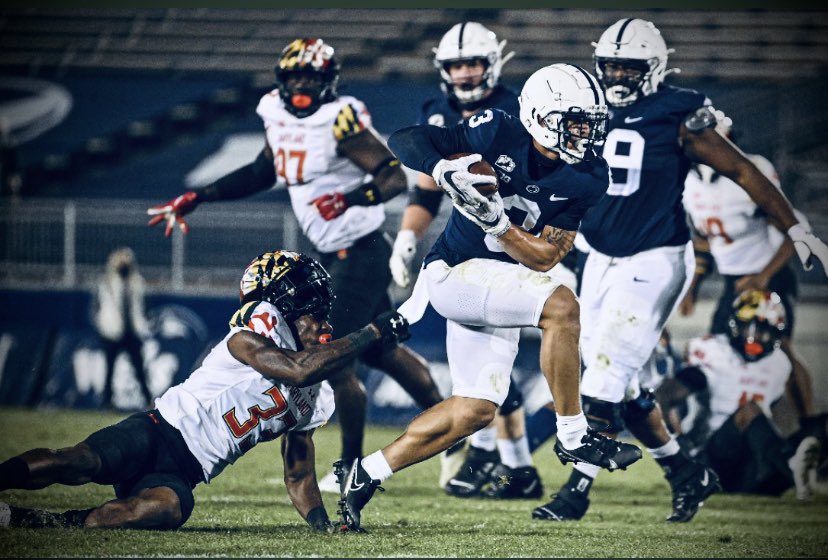 I also liked the way the two young running backs performed. Both were 4-Star high school recruits. These freshmen both had some highlight plays. The boys from the Sunshine State are starting to have an impact. Keyvone Lee had a 31-yard TD on a run up the middle on a great call by Ciarrocca (first time I've said those words this year) that broke a Nebraska blitz. Caziah Holmes had a 36-yard run earlier in the game, which was the longest run this season for the Lions.
As much I want to see Levis start this week, I think he is limited as a passer. Big arm, but so far hasn't shown to be an accurate arm. With that in mind, I'd put red shirt freshman Ta'Quan Roberson in for a series or two. He's athletic and I'd like to see if he can run and throw. Also it would mix things up and give the defense something else to think about. Take a look at him. What do they have to lose?
Staged Comment?
One thing that bothered me leading into the Nebraska game was Franklin's comment that he may not be as focused as he should with his family away. If you didn't know, Franklin's wife and two daughters are living in Florida because one of his daughters has sickle cell anemia. So as a precaution with COVID-19, he opted to have his family stay in Florida instead of live in State College.
I get that living a college town could be an issue, but Florida? Seems like this is a state with a high volume of cases. But the timing is what got me thinking.
To announce this during his weekly press conference when the team is 0-3 just seems like an excuse or staged to throw off the bigger issue (how bad the team is playing). Or maybe he just wanted to gain sympathy or throw off the media and fans.
There is Skype and Zoom and the cellphone to stay connected with your family.
He gets paid too much to use the family being away as distraction.
NEXT GAME: Iowa (2-2) 3:30 p.m. Saturday on the Big Ten Network.