Sixers Could Still Screw this up?
There is no consensus on who the No. 3 pick should be in
the 2017 NBA draft, but after 4 years of losing,
the 76ers  better get the correct  guy
"And with the third pick the Philadelphia 76ers select …"
And with that I cringe.
I'm worried I'm going to be disappointed on draft night, June 22. Those who say the 76ers can't screw this up are wrong. Just recall the 1986 draft, when the 76ers traded the No.1 pick, Moses Malone and Terry Catledge in two separate trades and changed the shape and direction of this team forever.
Oh, and I remember screaming at the TV when the Sixers drafted Kenny Payne. Kenny Freakin' Payne. And few years later I had the same reaction when they drafted that stiff Shawn Bradley.
Now I don't believe any player the Sixers draft at No.3 will be a stiff. But…
Even before the NBA draft lottery, I thought the two worst draft spots for the Sixers were No. 3 and No.4. Ironically, the Sixers' original pick was No. 5, but  – thanks to former GM Sam Hinkie – were able to swap picks and move up to No. 3.
Picking at No. 5 might have been easier. The reason? More guys at No.5 fit  the team's needs without reaching.
At No. 3, the debate over who to take consists of about six players. Pick the wrong guy or pick a player that some in the "Trust the Process" fan club didn't favor and you risk splitting, or at least splintering, the support group that favors taking the long road to winning approach this franchise has taken the last four painful years.
Assuming Markelle Fultz and Lonzo Ball are taken first and second, respectively, like most scribes predict, then the draft essentially begins at No.3.
That's where the real drama starts.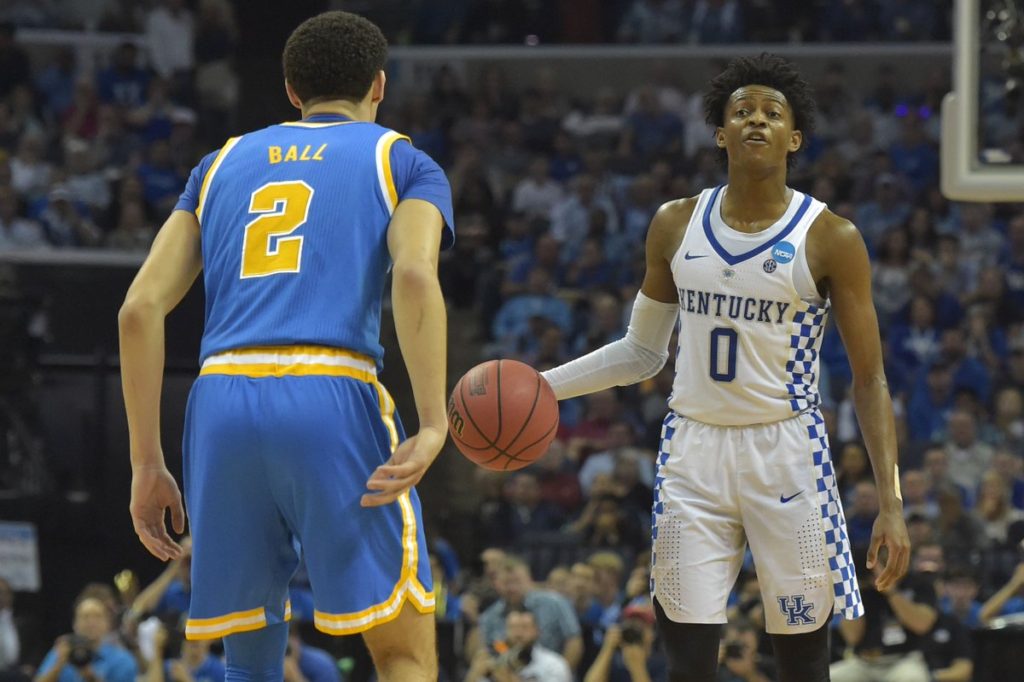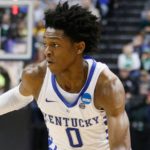 At No.3, do the Sixers take Josh Jackson, the athletic forward from Kansas who can't shoot from the outside? Or take De'Aaron Fox, the super fast point guard from Kentucky, who can't shoot from the outside? Both play great D.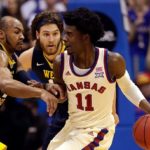 See a pattern here?
Then there's the scorers in Jason Tatum, the forward from Duke and Malik Monk, the guard from Kentucky; both can score in volume, but neither are great defenders.
I've also read Jonathan Issac, and to a smaller extent, Dennis Smith Jr. slotted at No.3.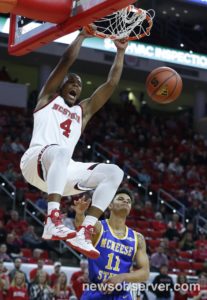 So who do the Sixers take? I've read and listened to many arguments and I go back and forth.
By now, the players' games are pulled apart, dissected and every blemish is magnified.
Monk is too small and doesn't play good D. Jackson's shot is broken. Tatum holds the ball too long and only has a mid-range game. Fox doesn't have a jumper. Isaac and Smith are both reaches at No.3.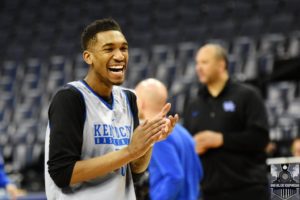 Then there's the argument for each player. Monk runs off screens well and can flat-out score, providing shooting and scoring, something the Sixers desperately need.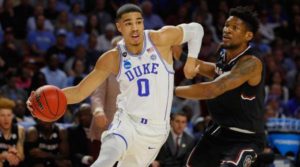 Jackson is an athletic wing that can slash and pass. Isaac can guard and play all five positions on the court. At one point I talked myself into Tatum, because he can score, but I believe he holds the ball too long. That is my biggest criticism with Smith as well, that he was turnover prone and he too dribbles too much.
So I've talked myself out of Tatum, though I love that the 6-foot-8 forward scored.896 points per possession, in averaging 16.8 points, 7.3 rebounds, 1.4 threes at Duke.
I'm lukewarm on Smith, who could play the point  or shooting guard.
And Then There's Four
So I've narrowed my choice to four players.  In no particular order, I have Fox, Jackson, Monk and Isaac. Okay, maybe that is my order (more on that later).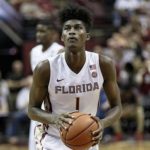 I love the versatility Isaac brings. He was a guard who had a growth spurt and now stands at 6-foot-11. He's long and lanky. He can score (12 points a game), rebound (7.8 rebounds), block shots (1.5) blocks and get steals (1.2) per game).
But did the Sixers really just suffer through a fourth straight terrible season to take a complimentary player, who may not become a star?
If the team trades back to say No. 6 with Orlando and picks up a veteran like shooter/slasher Evan Fournier and a draft someone like Isaac or Monk, I'd be happy.
Right after the draft lottery I was glad the Sixers didn't get the Laker pick in 2017 and had LA's unprotected pick next June. But now I wish the Sixers had say picks No. 4 and No.6. That would allow for drafting Monk and Isaac, neither is a reach with those picks and both would fit well with parts already on the team, namely Ben Simmons and Joel Embiid.
Best Available
But this team doesn't have two picks (yet) – I wouldn't trade with the Kings for picks No. 5 and No.10. How many rookies do you need? And the Sixers didn't just have its fourth lousy year to not get the best available player.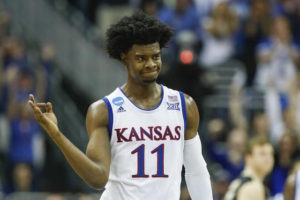 Some would argue that third best player is Jackson, the super athletic swing-man who averaged 16.3 points, 7.4 rebounds and three assists per game. He averaged an impressive 2.2 steals and 1.4 blocks per 40 minutes.
Yes, he'd play D, run the wing and take passes from Simmons for highlight dunks. But I worry about his outside shot. NBA defenders can defend slashers, if they lack an outside shot. He shot 57 percent from the free throw line.
I also wonder how the forward fits with Dario Saric and Robert Covington. I'd rather resign Ersan Illyasova, who adds toughness and his outside shot seemed to open things up for Embiid's game.
Two Wildcats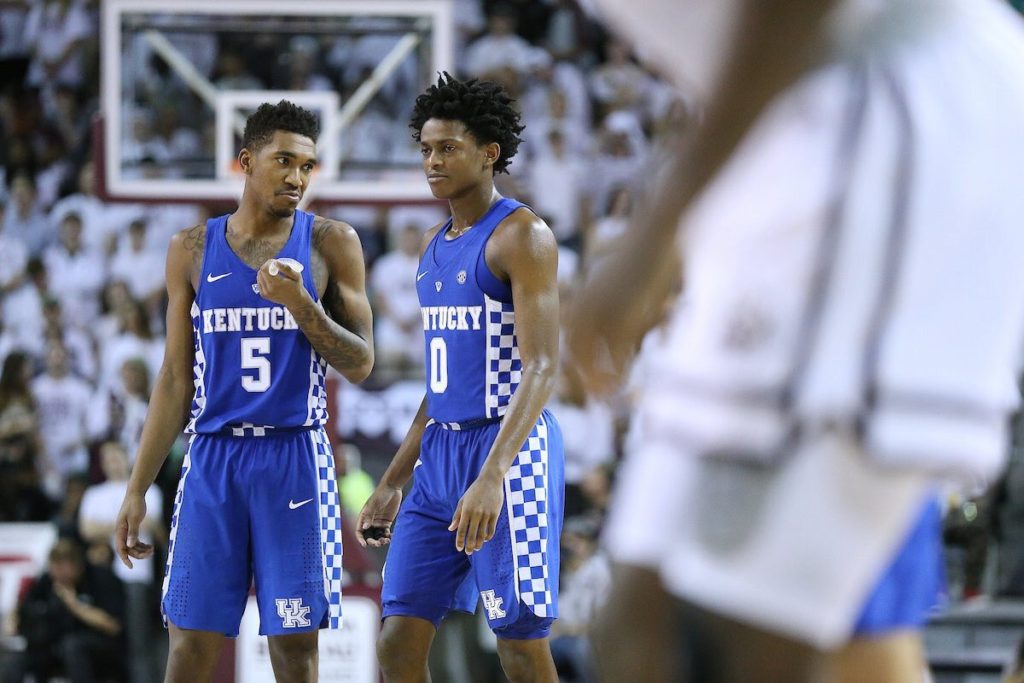 My choice for the Sixers boils down to Kentucky's back court from last season. I think Monk's scoring is impressive; he buried 104 triples at Kentucky and shot just less than 40 percent on the year from deep. He averaged 19.3 points per game.
I also believe he is more athletic than people give him credit, and his listed 6-foot-3 size (that might be a stretch) is not a big concern for me. He'd guard point guards in the NBA and allow Simmons to defend the bigger of the two guards on the court.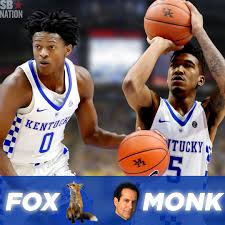 If you told be before the start of the NCAA Tournament that Monk would be the Sixers' pick I'd be elated. But something changed. Yes, I saw Monk hit clutch shots against Wichita State and North Carolina in the tourney.
But what changed was Fox. He elevated his game. Playing huge against the Shockers, scoring 39 against UCLA and outplaying Ball (for the second time during the season).
Sure, both Fox and Simmons both need the ball in their hands, but I'm watching the NBA finals as I type and Kyrie Irving. just drove to the hoop past four Golden State defenders for a basket in Game Three. Irving, like Fox, is not a great shooter, but can shoot and he can penetrate to the hoop.
The thing I like about Fox is he has the look of a superstar. I like how he conducts himself during interviews and says the right things about playing alongside Simmons in the Sixers' back court.
But what stands out the most is that his game improved as his season continued at Kentucky. He played well when the spotlight was at its brightest and he took it as a personal challenge when facing Ball.
Fox scored .956 points per possession and averaged 16.7 points, 4.6 assists, 4.0 rebounds and 1.5 steals.  Like Monk and Jackson, Fox is extremely athletic and explosive.
Sixers' coach Brett Brown preaches defense and Fox plays strong on-the-ball D. Fox's biggest knock is his outside shooting, but even that improved during the season.
Case in point: Over his first 18 games, he shot 13.5 percent from three-point range (5 for 37). Over his final 18 games, he shot 37.5 percent from three-point range (12 of 32). Fox, like Irving, looks like he could create his own shot virtually whenever he wanted. He shot 48 percent from the floor and 74 percent from the line.
Sure the Sixers need scoring, but they also need a point guard. Nothing is assured that the Sixers have their point guard in Simmons. Is Simmons healthy? Can he play point guard? Why not draft a point guard who can score and defend?
If Simmons is compared to LeBron James, why not draft a guy in Fox whose game is similar to James' back court mate in Irving?  I just watched Irving drive the hoop (again) for an electrifying basket, giving him 38 in Game 3 of the Finals.
I immediately think that could be Fox.
Trusting the Process is not about drafting safe or finding the "best  fit." It is about drafting the player with the biggest upside, to dare to be great.
Fox fits the bill.