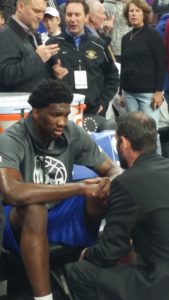 BY ERIC G. STARK
 So much for seeing Joel Embiid play any more this season. The 76ers said Wednesday before their game against the Miami Heat that Joel Embiid is done for the season.
 Monday's MRI scan has revealed the rookie center's left-knee bone bruise has "improved significantly."  However, it showed the meniscus tear is the more pronounced of the two injuries.
"We will continue to work with leading specialists to gather additional information through clinical examination and sequential testing to determine the best course of action and next steps," Sixers co-medical director Dr. Jonathan Glashow said in a press release.  Glashow is the co-chief of Sports Medicine Orthopedics at New York's Mount Sinai Medical Center.
One would assume that the next step is to have surgery to repair the torn meniscus. This news is far different from what the Sixers said when news broke on Feb. 11 that Embiid had a torn meniscus. The team said his was a slight tear that wouldn't require surgery.
"Our primary objective and focus remains to protect his long-term health and ability to perform on the basketball court," Sixers president of basketball operation Bryan Colangelo said in a statement. "As our medical team and performance staff continue their diligence in the evaluation, treatment, and rehabilitation of Joel's injury, we will provide any pertinent updates when available."
Embiid has been able to play in only 31 games since the Sixers selected him third overall in the 2014 NBA draft.