I believe it was The Supremes, or maybe Phil Collins, who sang,
"I need love, love, to ease my mind. I need to find, find someone to call mine. But mama said, "You can't hurry love. No, you just have to wait. She said, love don't come easy, it's a game of give and take."
Bah, humbug — to steal a real holiday expression.  Valentines's Day is one of those made up #Hallmark holidays in the same vein as "Grandparents Day," Secretary's Day" and  "Bring your Pet to Work Day."
I don't need a day to say I love you or feel loved.
Here are 3 reasons why V-Day is overrated.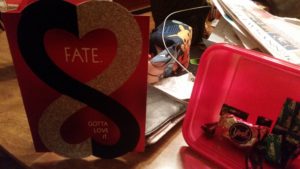 Love shouldn't be shown just one day 

(When I made another paragraph, it added I No.2. I do not want No. 2. Also, who do I put a period next the the Number? Like 1. )There's a lot of pressure for 1 day. Great, I have to buy gifts, flowers, candy and meal, and oh, yes, don't forget the card.
Speaking of Cards

Remember in elementary school when you had to give a card to every classmate, even the ones you didn't particularly care for? …
Was that The Supremes or maybe it Phil Collins ?
*****DID I embed YouTube video correctly. WHAT happened?