Was that "V" as in Victor or "T" as in Tom?
Okay, so you said, AT W43 S2344N0BW?
No, A -V!!!! 43 F2344MEW?
Alright, that was A C V 4 3 S 2 3 4 N B W?
NOOO!!! ACV43X234 M, as in Mary, E, as in "Edward," W.
… Is this  your first day (insert smart tone and a Jersey accent  in voice, here)?
No, SIR —  Day No. 8. And if you talk slower it would help me find your part number easier.
Two weeks into a new job in the appliance parts industry and  it feels like I'm in an episode of Star Trek  — beamed by Scottie to a new and distant land.
Jumping into the deep end of the pool, I'm learning on the job the terms and where to find part numbers. Here are 3 ways customers can help our parts search at McCombs Supply go faster and be more effective.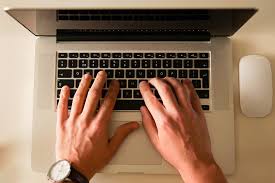 Come ready with your model number
Knowing the part number for the item you want is ideal, but if you have the correct model number and the correct brand, I can do a cross-reference with parts searches like Sears Parts Direct and  Appliance Parts Pros to match you with the correct part number to make sure we carry it by looking at our website  at mccombssupply.com/ or look at our inventory.
Please do not say you saw a part that looked like the one you need on Internet. That will not lead to a match. Looks can be deceiving, and though we do offer returns, there is a shipping and restocking fee. Having the part or model number will help us get you the correct part number and get you the item you need.
Have patience
"I want a 3-pole, 20V, do you have any?"
Say, what? I understood  more what the two people speaking Spanish at the counter earlier in the morning were saying more than I did this. I quickly consulted with Carols, a veteran of 34 years at McCombs, to educate me and help me get the correct part for the customer.
The 2-pole breakers are used for single phase AC circuits where there is an L1, L2 and N wire. The 3-pole breakers are used for three-phase circuits where there is L1, L2, L3 and N wire. Normally, any residential users may use 120/240V single phase system, therefore they'd need 2-pole. The difference between two 120V wires is 240V, that's why the voltage rating is 240V.
In this case, the customer was a farmer who need this part to run multiple devices in his barn. He showed a lot of patience with me. He came ready, having an old part as a reference for what he was looking to buy. From your years of experience in the repair business or in industry, you may know more than the salesperson, so showing patience and helping the young staff will help us find your part. McCombs Supply often has lower prices than the manufacturer or the competition, so being patient may lead to a bigger savings for you.
Talk slowly and pronounce your letters clearly
When calling on the phone, please do not speak fast, don't have your phone on speaker and please, please enunciate. We have calls spanning the nation, and the diversity of speech and dialect is evident during these calls.  If the letter for your model  is a "V"  make sure it is clear you said "V" and not "T." Make it clear it was "B,"  as in Boy and not "D," as in dog.
Calling in on speaker phone often sounds like you are talking to me in a different room, making it difficult to understand if you said "V" Or "T" or "S," as in Sam or "F," as in frank. Giving good examples like this for which letter you are saying helps me and makes for less frustration for you. Nothing, will make you more frustrated than if I say that model number does not match or repeating it back to you incorrectly.
My goal, and the goal of everyone on McCombs' sales staff is to make sure  we can find your part (s) and help you purchase it as easy as possible.