Welcome Back, Old Friend
It was nice to have the NCAA Men's Basketball Tournament back on TV.
By Eric G. Stark
Last weekend was great having non-stop basketball on TV for nearly 12 straight hours for four straight days. It was like seeing an old friend whom you have not seen for two years. To hear the familiar voices of Jim Nantz, "Hello Friends," and Bill Raffery with his "Kiss of the glass" comments.

Other announcers I enjoyed last weekend included the team of Brian Anderson/Jim Jackson and Allie LaForce; she was Miss Ohio and played hoops at Dayton. Kevin Harlan, the voice of NBA 2K, and Dan Bonner are great together. I also like the paring of Brad Nessler and Steve Lavin; they work well, though I kept thinking Nessler should be doing an SEC football game. Spero Dedes has a great voice (and cool name).

I have SiriusXM satellite radio right now and listened to parts of games on the radio. I am used to hearing Tom McCarthy doing play-by-play for Philadelphia Phillies games, but after hearing him this weekend on the radio it further confirmed my thought that he is better as a basketball (and football) announcer than baseball.

In the studios, Ernie Johnson playing the straight man to Charles Barkley never gets old. Barkley had a nice shout out to Ryan Smith, a Lampeter-Strasburg High School graduate and a Division II player at East Strasburg University, who lost his battle with cancer about a day after Sir Charles mention him on air.

Kenny Smith and Andy Katz complimented the team. Katz filled in listeners on texts he'd get from coaches. The other studio team of Greg Gumble is also good. I've always been a fan of Clark Kellogg's insights and Seth Davis' interesting stats. Though Davis' tips on which teams to take over the weekend on The Athletic were way off.
Commercials
Let's talk advertising. Reggie Miller sleeping at Wendy's to promote Wendy's Breakfasts as the official NCAA Men's Basketball Tournament breakfast is cute. I like when Miller pulls the blind down on Kenny Smith, who picked the wrong place to spend in the bubble.
Sidenote: I love Wendy's breakfasts (especially the Breakfast Baconactor and wedges) and anything to promote their breakfast success I am all for.
Tony Romo passing an NCAA caller over to Smith is also clever in the Corona commercials.
The Capital One commercials are funny. Video from YouTube.

Capital One brought back Barkley, Samuel L. Jackson and Spike Lee for their NCAA commercials. They are always humorous. I like the addition of Larry Bird and "Bird Watching," "Bird Call," ect. I am not as big a fan of Magic Johnson's contribution, but do like when Barkley says, "Oh, this is going to be good," when Magic is abut to saw Jim Nantz.
Don't like so much: The AT&T NCAA ads with Lilly, the longtime cellphone saleswoman character, who returns in NCAA-tournament themed commercials. I find them annoying, and even more so when Gumbel sets her up and CBS rolls to into an AT&T commercial.

Ratings Down
According to Wayne Friedman of Mediapost.com, CBS viewing dropped 20% to 4.7 million viewers – compared to 5.9 million viewers in 2019 – for 15 games during the first weekend of the tourney.
Media post.com said in 2019 that an average of 3.04 million viewers per game was registered through the second round. This year's decrease is partially due to eight second-round games being played on Monday. The tourney has most of its regional games Thursday-Friday and then winners playing Saturday-Sunday. This year action was pushed back to a Friday-Saturday start and carried over to Monday.
The Games
Let the games begin. Yes, there have been upsets. And yes, COVID-19 played a factor. I believe the virus hurt Virginia, delaying the team from arriving in Indianapolis and keeping the players quarantined and unable to practice. But still, that's two out of three tournaments where the Cavaliers lost to a 13th seed or lower (16th seed in 2018)
The action is always more fun when you have a bracket filled out. I joined my friend Rodney Hess' bracket challenge. I have two championships under my belt, but also finished last one year (and got my entry money back). Interesting note, most years women who enter his challenge usually do very well with their brackets. My theory: They don't over think it.
They also don't listen to all the TV announcers who are paid to throw things against a wall. Everyone – Okay, Seth Davis – was saying UC Santa Barbara was this hot team and Creighton was still reeling from their coach's racial comment. Well, Creighton beat UCSB and is still alive in the tourney.
The same commentators said watch Georgetown; the Hoyas are a hot team. No, the Hoyas looked very pedestrian against Colorado. Their coach, Patrick Ewing, spent too much time on TV and after the Hoyas when the Big East Tournament and the Buffalos smoked them!

This might have been our first indication that everyone under estimated the Pac 12 – "The Conference of Champions," as Bill Walton likes to say. The catchy expression has a little more weight now. Colorado, UCLA, Oregon, Oregon State and USC all advanced past the first weekend. It shows how West Coast basketball is strong. The Pac 12's showing comes without Arizona or Arizona State in the the tourney, two teams that have fared well in the past.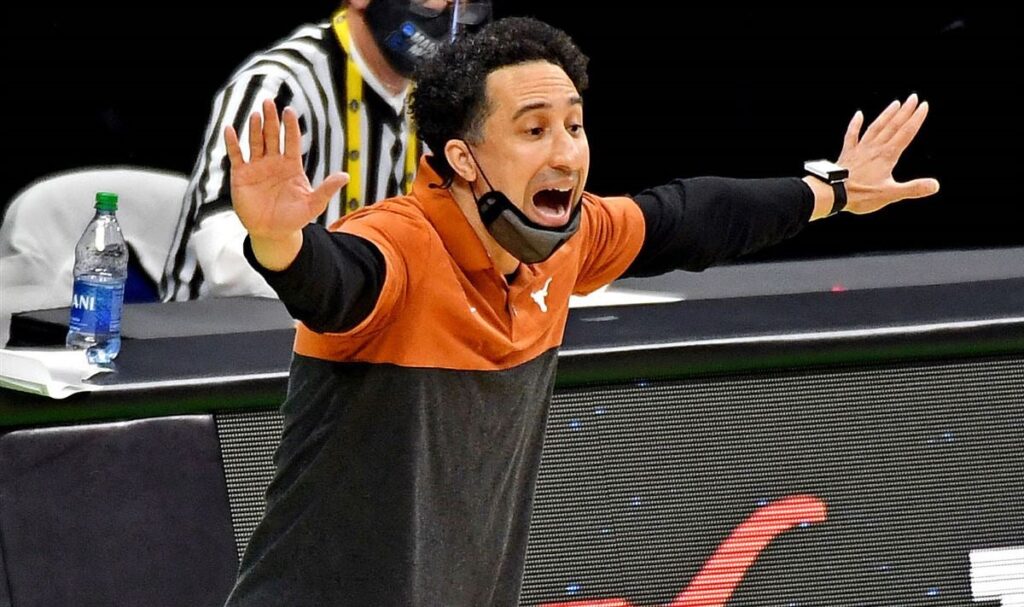 Underachieved: Texas. Seems like I think this every year since Shaka Smart left VCU for the Austin. Yes, he led the Longhorns to the Big 12 tournament championship this year (Kanas and Baylor both had COVID-19 issues), but to lose in the first round No. 14 seed Abilene Christian?
He has zero NCAA wins in six seasons at a place like Texas. That is unacceptable, and likely a reason why he reportedly took the head coaching job at Marquette Friday morning.
He compiled a 109-86 record since taking over Texas during the 2015-16 season. Before that, he led VCU to NCAA bids four out of his fives seasons at the helm.
Brothers In Arms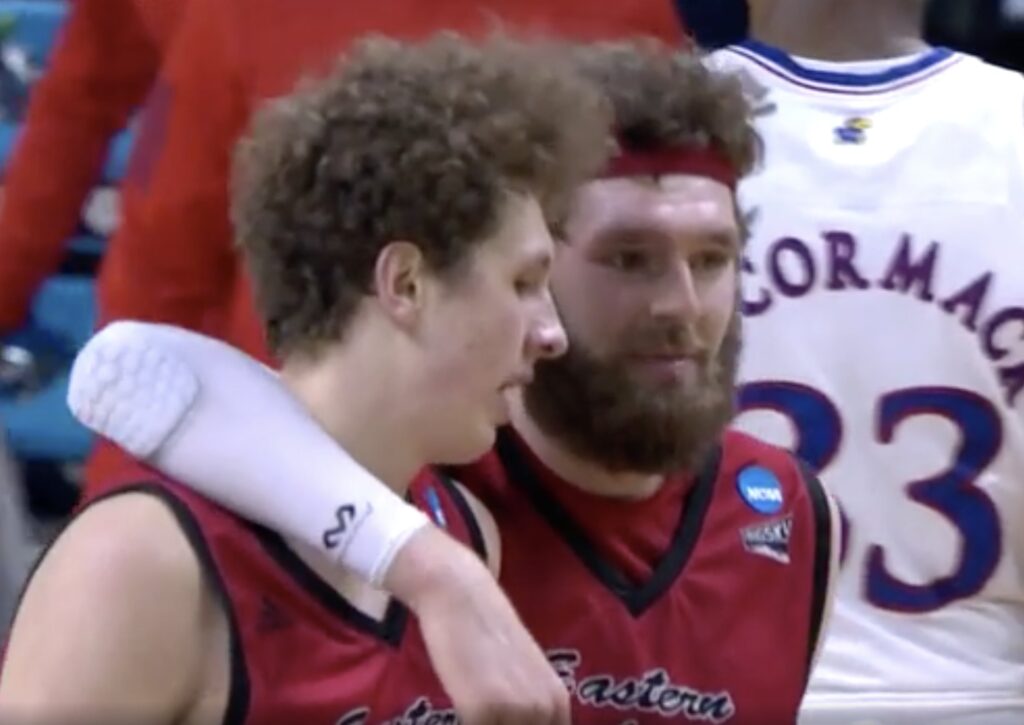 Kansas was got its shares of brothers in the tournament.
One of the lasting images I will have of the 2021 NCAA Tourney is big brother Tanner Groves putting his arm around younger brother Jacob as the two walked to the Eastern Washington bench in the waning moments last Friday. The two brothers combined for 58 points in a 93-84 loss to Kansas.

Jacob, a sophomore, scored 16 points in the first half and finished the game with 23 points on 8-of-11 shooting from the field, including 4-for-5 from 3-point land. The Eagles led 46-38 at halftime.
Tanner, a red-shirt junior, finished with a career-high 32 points on 10 of 16 shooting from the floor, including 4-for-9 from behind the arc. His low post moves and shooting range were impressive.
Tanner, with a thick long beard, headband and longer hair, reminded me of a Northern Pacific lumberjack. But Bleacher Report had the best tweet, comparing Tanner to Bill Walton, circa 1977, and Tanner, with red, poofy hair that looked like an afro, to Napoleon Dynamite. Yes, their physical appearance stood out, but so did their play on the court. And if not for a great second half comeback by the Jayhawks, the Groves would have had the Eagles grooving into a meeting Saturday against USC.
Which brings us to the next set of brothers. The Mobley boys from Cali. Theses two, along with their UCS teammates, blew Kansas off the court Saturday night. Isaiah Mobley is a 6-foot-10 sophomore forward who can score both inside and outside and is a strong rebounder.
He was a 2019 McDonald's All-American and he is joined on the Trojans by his brother, Evan, a 7-foot a freshman center, dominate defensive presence who can also score inside. He was a the 2020 Morgan Wooten High School Player of the Year, a McDonald's All-American and two-time California Gatorade Player of the Year.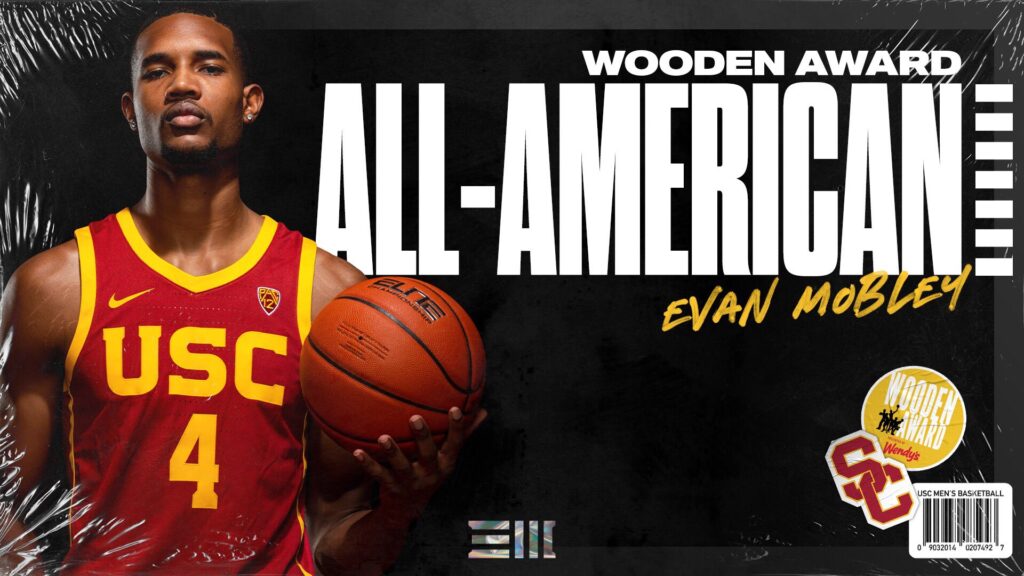 The Mobley brothers have been menaces so far in the tourney with Isaiah averaging 16 points and 6.5 rebounds and Evan averaging 13.5 points, 12 rebound and three blocks per game in two tournament games. Against Kansas, Isaiah led the Trojans with 17 points and Evan patrolled the pain with 10 points, 13 rebounds and three blocks in handing the Jayhawks their third worst loss in program history and worst loss since losing by 37 to Kentucky in 1974.
The Return of the Big Men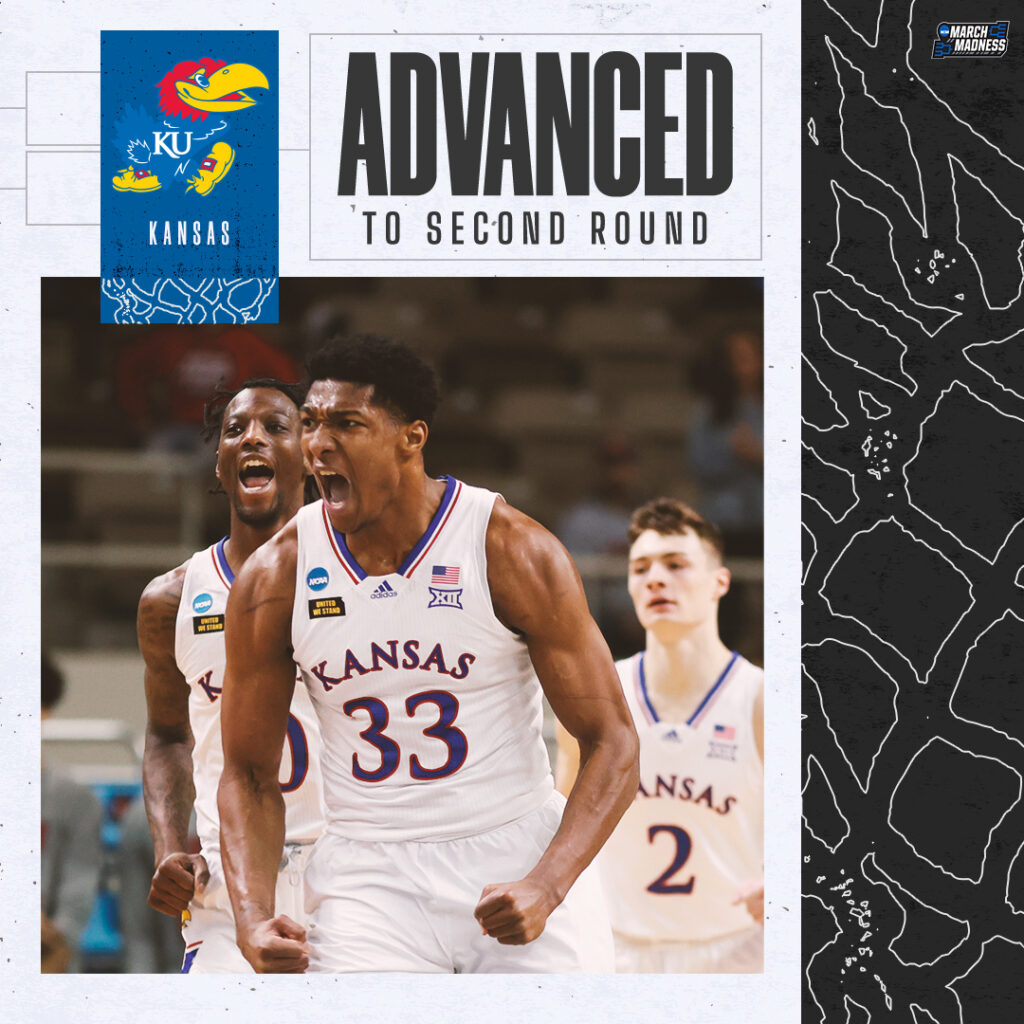 Yes, there has are plenty of 3-point shots made (and too many being taken) in the tourney, but what I have enjoyed is the return of the Big Man in the game. The play of the big guys inside is impressive.
As mentioned above, Evan Mobley is has played great in the pain for USC. So did Tanner Groves for Eastern Washington.
But Kansas beat Eastern Washington because of the play of 6-foot-10 David McCormick, a junior with great moves on the low block. He posted 22 points and nine rebounds in the comeback win. McCormick has a great jump hook from the low block.

Then there is Drew Timme from Gonzaga. Talk about the big fundamental. He pull out "Old School" moves in the paint, like circling twice on his pivot foot before doing an up-and-under in the pain for a basket. He has such patience in the low post. Check out the footwork in this video via Twitter.

The talented sophomore had a double-double, netting 30 points and 13 rebounds on 9-of-12 shooting and 12-of-14 from the free throw line to lead the Zags past Oklahoma in the second round. He added 10 points, six rebounds and five assists in the opening round win against Norfolk State.
Iowa's Luca Garza made the most of his one game. The Hawkeyes lost to Oregon, but it wasn't Graza's fault. The 6-foot-11 big man had 36 points and nine rebounds.
Who Looks Good?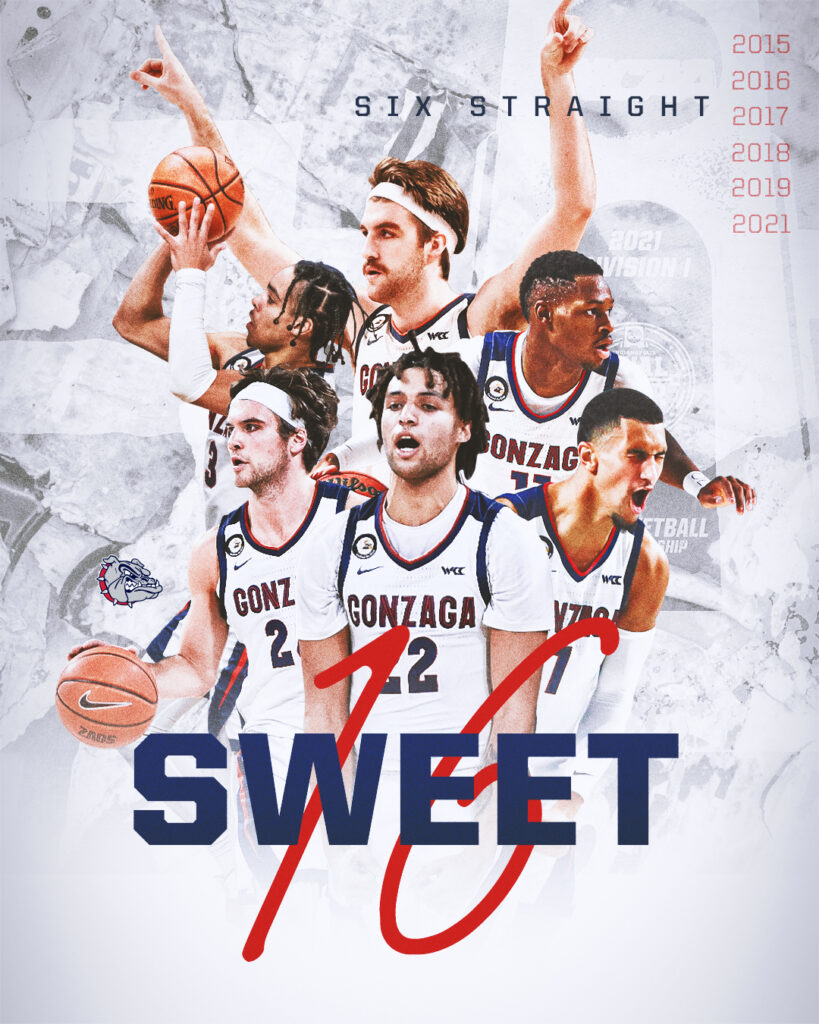 Ah, Gonzaga. They are now 28-0 and have made the the Sweet 16 for six straight years. Besides Timme, they have an NBA-ready point guard in freshman Jalen Suggs. They also have a great shooter in Corey Kispert, who scored 23 points in the Norfolk Sate win, shooting 6-of-9 from 3-point range.
With three legit scorers, great ball movement on offense and strong role players, this is a team that will be difficult to beat.
So far they've beat point spreads of 33 points and 15 points to blow out their first two opponents. I don't see a let up.
This is your National Champions.
Okay, maybe I should have saved the punch line – the national title team – for the end of the blog, but why burying the lead any longer?
The Zags are the best. But Syracuse and its 2-3 zone and great shooting by Buddy Boeheim has been fun to watch.
Baylor and Alabama are playing great basketball. Baylor players seem recovered for its bout with COVID-19.
Alabama has two great guards in Jaden Shackleford and Jahvon Quinerly and forward Herbert Jones, the SEC Player of the Year and Defensive Player of the Year. The last SEC player to achieve these honors? Kentucky's Anthony Davis (He's pretty good). So is Jones. His length reminds my of UNLV's Stacey Augmon.
I think it is a shame two Pac 12 teams in Oregon and USC have to meet in Sweet 16 as both teams are playing well. But it does mean a Pac 12 tam will make the Elite 8. I believe Arkansas and is also playing great ball right now. I am also looking forward to Florida State versus Michigan (I pulling for the Seminoles to beat the Wolverines).

In the end, though, Gonzaga looks too good. Too talented. Too much a like a team that plays well together to lose this tourney.
So I will sit back and enjoy. Welcome back, old friend.