Kingery Gets Promoted to Triple A
By Eric G. Stark
According to Philly.com, Reading Fightin' Phils second baseman Scotty Kingery was promoted to the Triple A Leigh Valley Iron Pigs.
I was at his last game for the Fightin' Phils Sunday, and he made an impression, collecting three more hits while serving as the designated hitter during the game.
I saw him six times at Reading over the last two seasons. I am impressed. He can really hit. He is fast and he as some power. He also fields his position very well. My son, Jesse, 6, paid attention very time Kingery came to the plate. We loved to watch how aggressive he was on the base pads.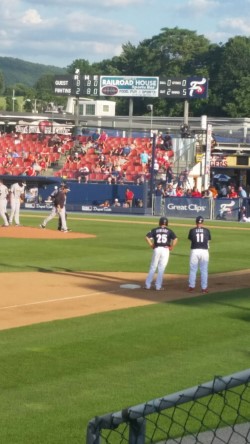 Kingery, 23, a second round pick from the University of Arizona in 2015, was named the Eastern League Player of the Month in May. To say he dominated at Double-A would be an understatement.
He leaves Reading batting a team-best .313 and leading the Eastern League in homers (18), slugging percentage (.608), total bases (169), extra-base hits (41) and runs scored (62). He is second in stolen bases (19) and triples (5).
Kingery's promotion came three days after the Fightins sent another top hitter, outfielder Andrew Pullin, to Triple-A.
Pullin, a 23-year-old leftfielder, batted .308 at Reading with 14 homers and a .368 on-base percentage in 67 games this season.
Dating back to last season, Pullin has  more than 450 at-bats at Double-A and is one of the Philadelphia Phillies most consistent hitters.
One last thing, the Iron Pigs team is loaded with talented players. Can anyone say road trip?