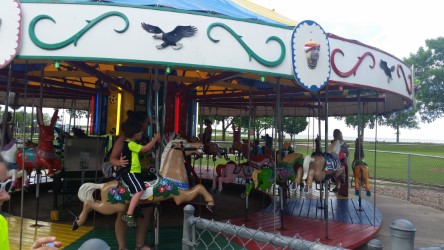 Who Knew?
There is more to do in Green Bay than just watch the Packers.
By Eric G. Stark
GREEN BAY, Wis. – I am a big fan of Green Bay, having visited the Midwestern city more than a dozen times for football games and training camp.
Typically, I'd have ice cream from Storhiem's (now closed), visit the casino and have dinner at Prime Quarter.
Oh, and needless to say, I'd visit the the Packers Pro Shop, tailgate at Debbie Jacques "Under the Lights of Lambeau" home, which is diagonal from Lambeau Field, and either attend a game or go to training camp.
But something odd happened on my visit during the summer of 2017.
I repeatedly uttered three words: "Huh, who knew?"
Who knew there was this much to do in Green Bay, besides watch Packer football?
Summer is coming to an end and that means Packer football, but, as I learned, there is more to do in Green Bay than just seeing the Packers.
Who knew?
Named for the green-tinted streaks that stripe its bay in the springtime, Green Bay is Wisconsin's oldest settlement and is known for its family-friendly atmosphere, waterfront district, breweries, cheese tasting, unique shops and great local dining.
There are also historic parks and educational museums worth visiting.
In July 2017,  the Titletown District opened, providing a 10-acre park and plaza with year-round entertainment, public art and winter ice skating. There is also a four-diamond boutique hotel, sports medicine clinic and upscale brewery and farm-to-table restaurant.
Across the street from the famous hallowed ground of Lambeau Field, sits Lodge Kohler at the Titletown District, a beautiful four diamond hotel that opened in July 2017.
The district also boasts Hinterland Brewery and Restaurant, which moved from downtown Green Bay to Lombardi Avenue. Make sure to try the Highland Farms venison meatloaf, goat cheese and wild mushroom wood fired pizza.
Cultural Significance
Visitors can learn more than football when they come to Green Bay. The area hosts several family-friendly museums. There is the Oneida Museum, which celebrates the Oneida Nation Native Americans.
The museum features exhibits dealing with the past and present of the Oneida Nation.
Family Amusement
Act like a kid again at the old fashioned Bay Beach Amusement Park.
After more than 15 trips to Green Bay, I hate to admit it, but I never heard about this amusement park. Who knew Green Bay had the ninth oldest continuously operating amusement park in the United States?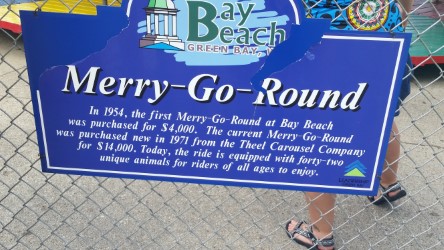 I checked with Lancaster County locals Andy Amway, Bill Bowers and Terry Engleman – all retired school teachers who spend a lot of time in Green Bay – if they ever heard of or visited the park. The trio never heard of it, but seemed intrigued.
The park, which reminds me a lot of Knoebels Amusement Park in northern Pennsylvania, celebrated 125 years in 2017.
Like Knoebels, visitors pay as they go. Entrance and parking are free, and most of the 18 rides are still only 25 cents. This is a nice family outing.
My favorite rides were the carousel (I love the old carved horses) and the Zippin Pippin, a replica wooden roller coaster duplicated after one of Elvis Presley's favorite rides.
Formerly called the Pippin, this ride is one of the oldest existing wooden roller coasters in the U.S. It was constructed circa 1915. This was reportedly Presley's favorite ride when it was located in Memphis, Tennessee at Libertyland.
The ride, which is fast – it lifted me out of my seat – but doesn't beat you up like some wooden coasters,  relocated to Green Bay in 2010.
Literally just down the road from the amusement park is Bay Beach Wildlife Sanctuary.
It is a 700-acre urban nature preserve. It is the largest park in the Green Bay park systems, caring for more than 4,500 orphaned and injured animals annually.
Because of the distance – about a five minute car drive – a family could easily split their day between the Bay Beach Amusement Park and the sanctuary, or spend the entire day at each attraction; there is enough to see and do.
The wildlife sanctuary has six miles of walking, hiking and skiing trails and is free to the public and open year round.
As I learned more about the sanctuary, which was established in 1936 as a site for waterfowl rehabilitation – I heard those familiar words in my head again: "Who knew?"
The sanctuary offers environmental educational programs to more than 10,000 students, as well as being home to nature walks, urban fishing, summer camps, cross country skiing and more.
The park is open daily from 8 a.m. to 4:30 p.m. (CT) for hiking. It is a great way to walk up and get a close look at wildlife.
This is a great place for the serious birder. Avid birders have counted more than 200 species of birds here.
Not being much of a bird watcher and attempting to beat the heat and humidity, I saw many different bird types while relaxing in the air conditioned observation building; there are large glass windows wrapping around most of the building.
I asked someone who knew what birds I was seeing. The birds included a Great Blue Heron, Red-Bellied Woodpecker, Blue Jay, Oriole and Yellow-Rumped Warbler.
History Lesson
I have eaten meals with fellow Packer Backer Bill Bowers at Titletown Brewing Company, but neither of us realized that less than 500 feet away is the Neville Public Museum.
As I walked the hallways of the museum, again, that voice in my head was speaking, "Who knew?"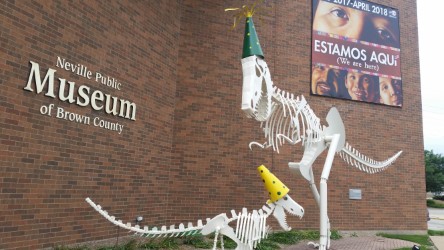 Great for children, there are sculptures of dinosaurs outside and fossils inside the museum, which opened in 1915 as a one-week exhibit showcasing Green Bay history.
Still heavy on the history of Green Bay, the museum features more than one million items in permanent collections. This is a great family entertainment and educational experience.
Prices are children age 5 and younger are free, ages 6-15, $3; adults 16 and older, $7.
It is a fantastic permanent display of Native American history of the area, as well as an exhibit about the community and the Packers and a temporary display of neon signs and a bilingual Latin American exhibit that chronicles Latinos in northeast Wisconsin.
Current and future exhibits include "Our Brown County (1819-2018) runs now through Sept. 29.
It celebrates 200 years of history with 50 photographs and 50 artifacts depicting the county makes up Green Bay. The county was the first boundary line west of the Great Lakes – that's 30 years before Wisconsin became a state.
"Birds" runs July 15-Aug. 18. This exhibit explores our relationship with birds through Neville's collection of taxidermy and art.
"Women With Scissors: Materialized starts Aug. 24 – Nov. 10. It explores the colorful works of 14 artists representing some of the most innovative design techniques in fiber arts. The exhibition will be paired with sewing-related artifacts from the museum's permanent collection.
"Gowns & Gowns" starts Oct. 25-Jan.1 and explores more than 200 years of fashion and firearms.
Another fun and educational family event is the Heritage Hill State Park, a 50-acre living history museum. On the banks of the Fox River, the park has historic buildings, demonstrations and artifacts representing four periods of northeastern Wisconsin.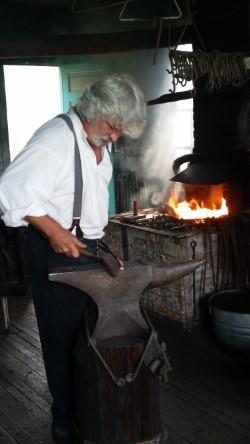 The periods include Fur Trade, Fort Howard, the Growing Community and Ethnic Agriculture area. There are more than 6,000 artifacts.
I enjoyed learning the history of Fort Howard, which dates back to 1816. It is interesting to see how people lived in this earlier era.
The cost for the park is children (3-15) $8; adults $10; seniors (62 and older)/veterans $8. Summer hours run now through Sept. 1. Closed Monday, the park is open Tuesday-Saturday 10 a.m. – 4:30 p.m. and Sunday noon-4:30 p.m.
Good Eats
As much as I've mentioned things I didn't know, the Bay Family Restaurant is not one of them.
I first visited the restaurant in 1997 and have been back several times  for their great breakfast, where on Packer game days the staff all wears Packer football T-shirts or jerseys.
Open for breakfast, lunch and dinner, the Bay Family Restaurant, which is attached to the Bay Motel, is a short walk from Lambeau Field and the Titletown district.
I've only had breakfast there; order the Mexican omelet, cinnamon French toast, waffle or corned beef brisket skillet. They have served food since 1958.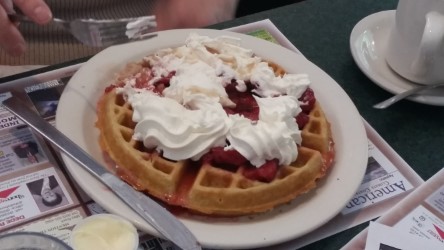 From the familiar to the new (or who knew) again. Krolls West is situated on Ridge Road across the street from Lambeau Field on a side of the stadium I rarely ventured.
This means I was not familiar with Kroll's West, a family-owned restaurant for more than 80 years (there is second restaurant, Kroll's East, in downtown Green Bay). Order the cheese curds or the double cheese burger. This is a good place for lunch. I also liked their chili.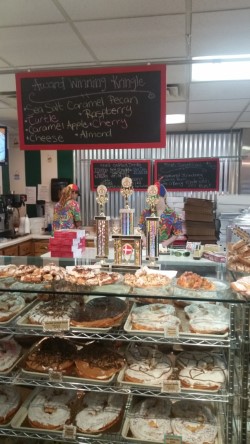 Three other foodie places that were new to me included Waseda Farms Market (great certified organic food and meats), Scray Cheese (their cheese curds are awesome) and Uncle Mike's Bake Shoppe (their Kringle is outstanding).
It doesn't get much more local than these three places.
Waseda is an organic market with a fresh meat counter, local produce and more than 100 cheeses, dairy and groceries. The meats are outstanding, and you can order gourmet sandwiches. I really enjoyed their sausage and brats.
At Scray Cheese, a fourth-generation artesian cheese shop and factory, I tried fresh cheese curds for the first time; fresh curds squeak when you bite them.
For dessert, go to Uncle Mike's, voted the best bakery by Best of the Bay for the last 12 years.
They serve breakfast and lunch, but they make a great cake and an even better Kringle, a hand-rolled Danish pastry dough.
They are exceptionally flavorful. Uncle Mike's won a Kringle making contest and were named the North  American Kringle champion.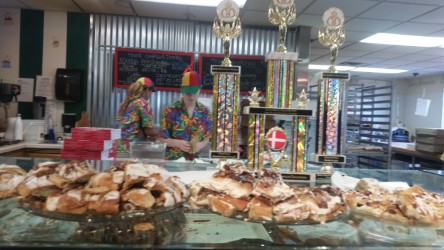 Kringles and championship trophies are in on display. 
Where I Stayed
Radisson Hotel and Conference Center, which connects to a casino and has an indoor pool and hot tub.
Lambeau Field
Okay, you can't visit Green Bay without stopping at Lambeau Field. The Pro Shop is incredible, the atrium impressive and the Packer Hall of Fame Tour is worth the price of admission.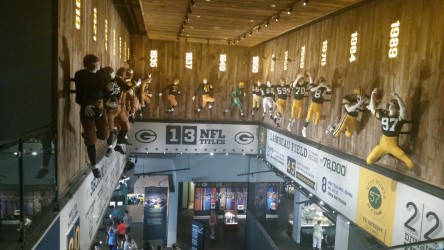 Prices for the Hall of Fame is adults (ages 18-61), $15; seniors (age 62), military and youth (ages 12-15), $12; children (ages 6-11), $9. Children (5 and younger) free. Note: Combination pricing is available for a Hall of Fame admission and stadium tour.
Reservations are being accepted for groups of 20 more that are interested in booking a private Hall of Fame viewing or stadium tour. Call 920-569-7512 for more information.
Packers training camp begin training camp July 25, but there is more to do in Green Bay than watch football.
Who Knew?